Biodiversity and ecosystem conservation from an eScience perspective: the LifeWatch ERIC community meets in Seville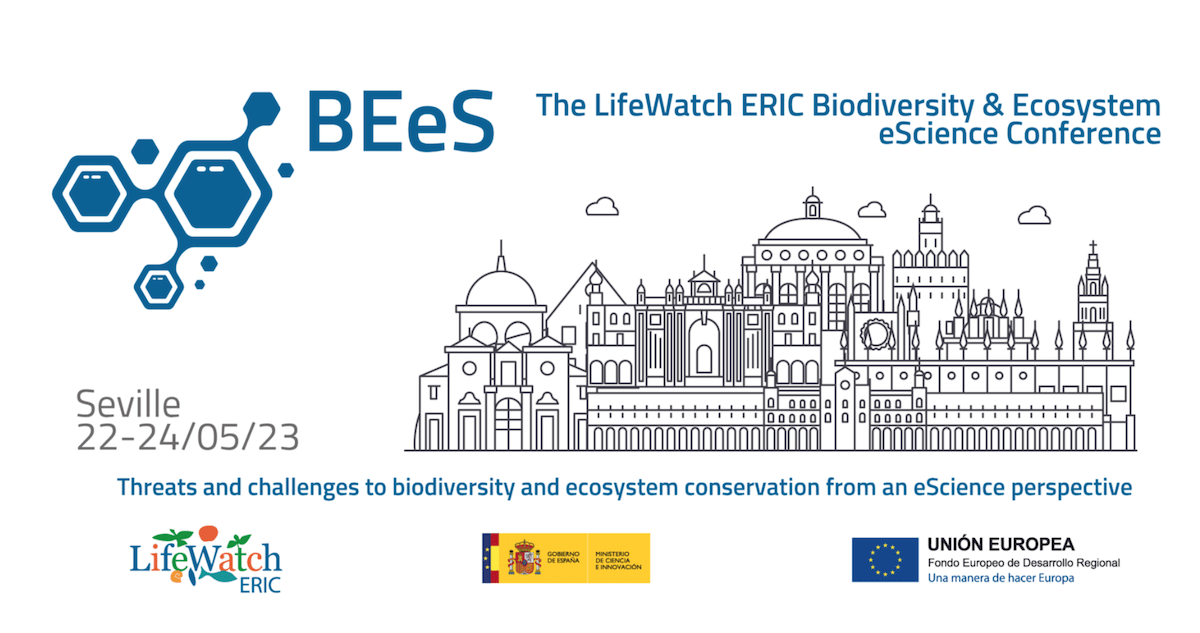 The LifeWatch ERIC family is meeting again, for the first time in four years, at the Biodiversity and Ecosystem eScience Conference in Seville, Spain, this 22-24 May 2023. Hosted by the University of Seville, not far from LifeWatch ERIC's headquarters, the bustling reunion allows 150 participants from LifeWatch ERIC, its National Nodes, and the broader biodiversity and ecosystem research community to present their work in person. The enthusiasm is tangible, and LifeWatch ERIC is glad to announce a rich programme, featuring 65 presentations from 13 different countries.
During those three days, presenters guide us through the advanced, transdisciplinary and challenging frontiers of their field of research: from ecosystem monitoring in mountain areas, such as in the Sierra-Nevada high-mountain protected area case study, to DNA-based biodiversity monitoring and environmental information to study the communities of freshwater ecosystems in western Andalusia. The most advanced eScience tools are presented, ranging from those designed to manage and control Alien Species or to assess ecological health and status of ecosystems, to e-services and Virtual Research Environments (VREs) enabling a deeper understanding of biodiversity and ecosystem responses to climate changes. Through this lens, BEeS 2023 touches a variety of topics of the uttermost importance for the current research landscape, as well as for decision makers and society as a whole, because of the massive socio-economic impacts these topics have in our daily lives.
Planned to start on the International Day for Biological Diversity and under the overall theme of 'Threats and challenges to biodiversity and ecosystem conservation from an eScience perspective', the conference programme is divided into seven session topics across the three days, each making reference to the Infrastructure's VREs and online tools and services:
Major threats to the Earth's biodiversity and ecosystem health
Macroecological and biogeographic approaches to biodiversity conservation
Ecosystem and habitat mapping
Animal biology and behavioural traits
Biodiversity observation "System of systems"
Biodiversity and ecosystem responses to climate change
Natural capital and the 'One Health approach.
A Round Table on 'Biodiversity and its management, conservation and recovery in a changing biosphere' organised on Monday afternoon, featuring in the panel Carl Beierkuhnlein (University of Bayreuth, Germany), Meelis Pärtel (University of Tartu, Estonia), Fernando Rodríguez (University of Seville), and Juan José Vergara (University of Cadiz) is chaired by Christos Arvanitidis and Peter van Tienderen, respectively LifeWatch ERIC Chief Executive Officer and Director of the Virtual Laboratory and Innovations Centre in Amsterdam. The Round Table, and in fact the whole conference is live-streamed on the LifeWatching WebTV channel.
Particularly relevant is the Institutional Address at 09:00 on Tuesday 23 May (CEST) by José Carlos Gómez Villamandos, Regional Minister of Universities, Research and Innovation, from the Junta de Andalucía, and Christos Arvanitidis. The conference is closed by D. Manuel Felipe Rosa Iglesias, Vice-Dean of Technological Transference of University of Seville, Christos Arvanitidis, Alberto Basset, LifeWatch ERIC Service Centre Director, and Peter van Tienderen.
Real time information on presentations is also available on the LifeWatch ERIC Twitter feed, except for the guided tour of the University's Rectorado and the Real Alcázar Gardens on the first night. You have to be there in person for that.
Click here for the conference mini-site, the conference programme and the LifeWatching WebTV live streaming.