PRESENTERS: Iria Soto, LifeWatch ERIC, Spain, and Yifang Shi, LifeWatch ERIC, Netherlands.
Two women scientists talk about their work, role models and gender bias, with some advice for those who are just starting on the journey: be yourself!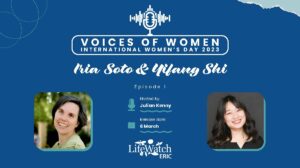 In the lead-up to International Women's Day 2023, LifeWatch ERIC invited women scientists from our EU Distributed Centres to talk candidly about themselves in a series of podcasts dedicated to Women in Science. In conversation together, Iria Soto and Yifang Shi develop powerful and positive messages on the contribution of women to science and to society.