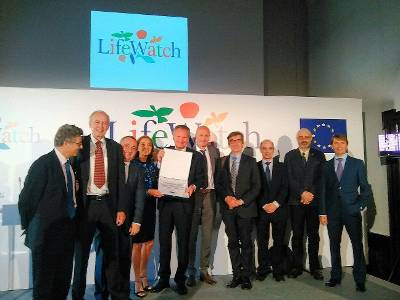 Deepening biodiversity and ecosystem related issues has become a crucial value in contemporary society, which is tackling global scale challenges on capital elements, such as resource supply, economic development, environmental security and human well-being. The European Commission recognises research in this area as a priority, moving further from the punctual programmes funding the many fixed-term projects, to the institution of a European Research Infrastructure Consortium, as a long term strategy to ensure sustainability of research. Welcome, LifeWatch ERIC!
LifeWatch ERIC is the 14th European research infrastructure to be granted this important status, and it is composed by eight founding member states and three common facilities. Through the use of the ICT, the infrastructure guarantees the access to big sets of data on biodiversity, ensuring their standardisation and interoperability, and providing researchers and institutions with tools and services allowing the creation of customised virtual research environments, supporting policy making.
Italy, through its Ministry for Education, University and Research (MIUR) and its National Research Council (CNR), plays a key role in LifeWatch ERIC, hosting its Service Centre, one of the three common facilities, at the University of Salento, and contributing with its e-Biodiversity Research Institute, powered by a Joint Research Unit counting more than 30 among top level universities, national institutes, regional agencies and academies of the country.
On 8 and 9 May 2017, the first General Assembly of LifeWatch ERIC took place in Seville (Spain), and elected the interim members of the statutory bodies which will manage the Consortium until the formal ones will be appointed. Prof. Alberto Basset has been named interim Director of the Service Centre and interim Member of the Executive Board.
On 23 May 2017, European Commission Director-General for Research & Innovation, Robert Jan-Smits, awarded the LifeWatch ERIC Plate to the Spanish Secretary of State for Research, Development & Innovation, Carmen Vela, who received it on behalf of the entire LifeWatch ERIC community.
Welcome, LifeWatch ERIC!
To see the LifeWatch ERIC statutes, please click here.
You can find the Communication of the European Commission here.