Towards the ENVRI Community Winter School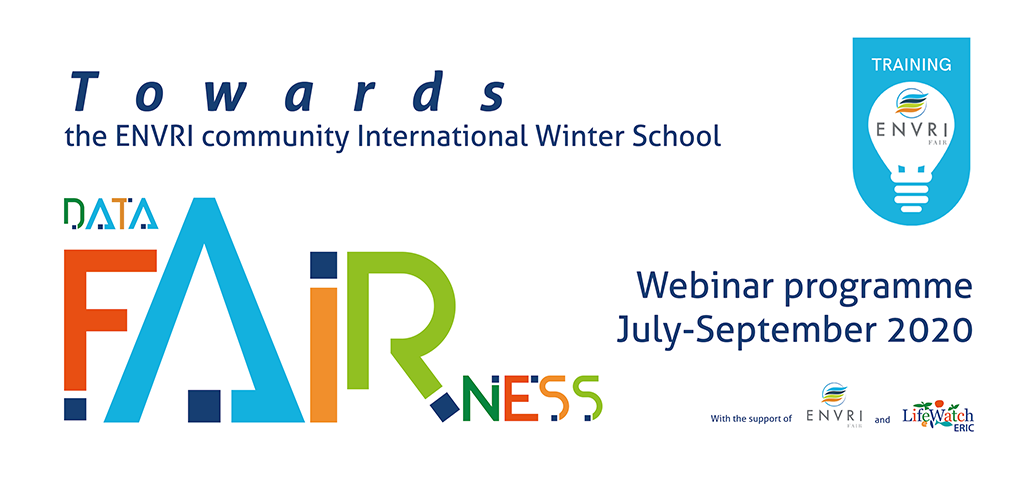 Data FAIRness Webinar Programme, July–September 2020
For two years in a row already, the ENVRI Community International Summer School on Data FAIRness has been assembling in Lecce, in the middle of the summer season, those researchers, experts and technical staff from different environmental and research infrastructures who want to deepen their knowledge on this topic. Unfortunately, the ongoing COVID-19 restrictions have ordained the postponement of the current edition until the beginning of next year, when the 'ENVRI Community Winter School on Data FAIRness' will take place, still in Lecce. The delay has created the opportunity to enrich our training offerings on the subject, with a series of online webinars dedicated to data management, leading the way 'Towards the ENVRI community Winter School'.
A Data FAIRness Webinar Programme featuring three webinars have been jointly organised by ENVRI-FAIR and LifeWatch ERIC from July to September 2020, with a focus on helping end users, particularly ENVRI-FAIR project partners and data centre staff, make the best use of their data. Registration for the webinars is free and anyone working in environmental and Earth science research is welcome to take part.
Under the heading of 'Towards the ENVRI Community Winter School', the online training series debuts on Monday 13 July 2020. The first broadcast is presented by Zhiming Zhao, from the University of Amsterdam, and will go to air from 9:30 to 12:00 CEST, providing 'An introduction to Cloud Computing'.
The second webinar on 'Workflows Orchestration and Execution' will follow on Tuesday 14 July, from 10:00-12:00, presented by Nicola Fiore and Lucia Vaira, both from LifeWatch ERIC.
The third webcast is scheduled for 22 September and will feature Claudio D'Onofrio and Karolina Pantazatou, both from ICOS ERIC, with 'An Introduction to Jupyter'.
Dates for the ENVRI Community Winter School on Data FAIRness, still to be hosted by the University of Salento in Lecce, will be available soon.