LifeWatch Belgium 3rd Users & Stakeholders Meeting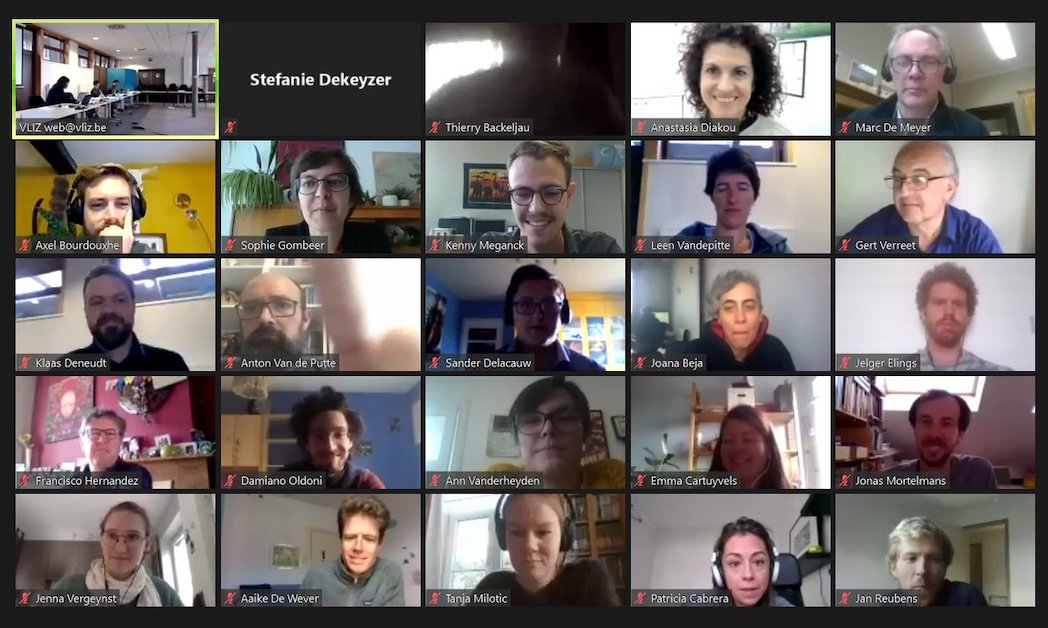 LifeWatch Belgium: a highly innovative infrastructure for biodiversity research.
Interaction at the third edition of the LifeWatch.be Users & Stakeholders Meeting, 15-16 October 2020, took place entirely online, because of the Covid-19 pandemic. LifeWatch Belgium is a high-technology virtual laboratory for biodiversity research, and the Belgian LifeWatch community meet every year to showcase progress made. Open to all users and stakeholders of the infrastructure, the event this year attracted 100 registrations from a multitude of Belgian research institutes, universities and policy bodies, who were pleased to find the proceedings interesting and insightful.
After an introduction from Klaas Deneudt of the Flanders Marine Institute (VLIZ), Day One featured users' stories from Belgian LifeWatch partners:
The World Ocean Assessment, a global exercise supported by the LifeWatch Species Information Backbone (Leen Vandepitte, VLIZ)
Downstream migration through a shipping canal: challenges on the road (Jenna Vergeynst, UGent)
Comparison of methods to model species habitat networks for decision-making in nature conservation: the case of the wildcat in southern Belgium (Axel Bourdouxhe, LifeWatch-WB)
Biodiversity.aq and POLAAAR portal use case: DNA metabarcoding of the prey and microbiome of museum specimens of Antarctic fishes (Henrik Christiansen, Biodiversity.aq)
The need for accurate and comprehensive DNA sequence databases to reliably identify species of policy concern (Kenny Meganck and Sophie Gombeer, BopCo).
The second day, 16 October, was the turn of the Belgian LifeWatch partners to demonstrate specific aspects of the infrastructure:
LifeWatch data R package (Lennert Schepers, VLIZ)
Agouti: A platform for managing wildlife camera-trapping projects (Tanja Milotic, INBO)
Exploring the landscape via the ecotopes with GIS softwares (Julien Radoux, LifeWatch-WB)
POLA3R (Maxime Sweetlove, Biodiversity.aq)
The process of DNA-based species identification: bushmeat as a case story (Ann Vanderheyden, BopCo).
The event clearly demonstrated that the Belgian LifeWatch community is an involved and active one. The multitude of interesting and impressive user stories highlighted the individual projects that are going on and the immense progress that LifeWatch Belgium is making. Click here for the program, including links to the presentations and demonstration videos.
The demonstration videos that were shown during the second day of the Users & Stakeholders Meeting are now available here on the LifeWatch.be website