Institutional interest in LifeWatch ERIC at Transfiere 2021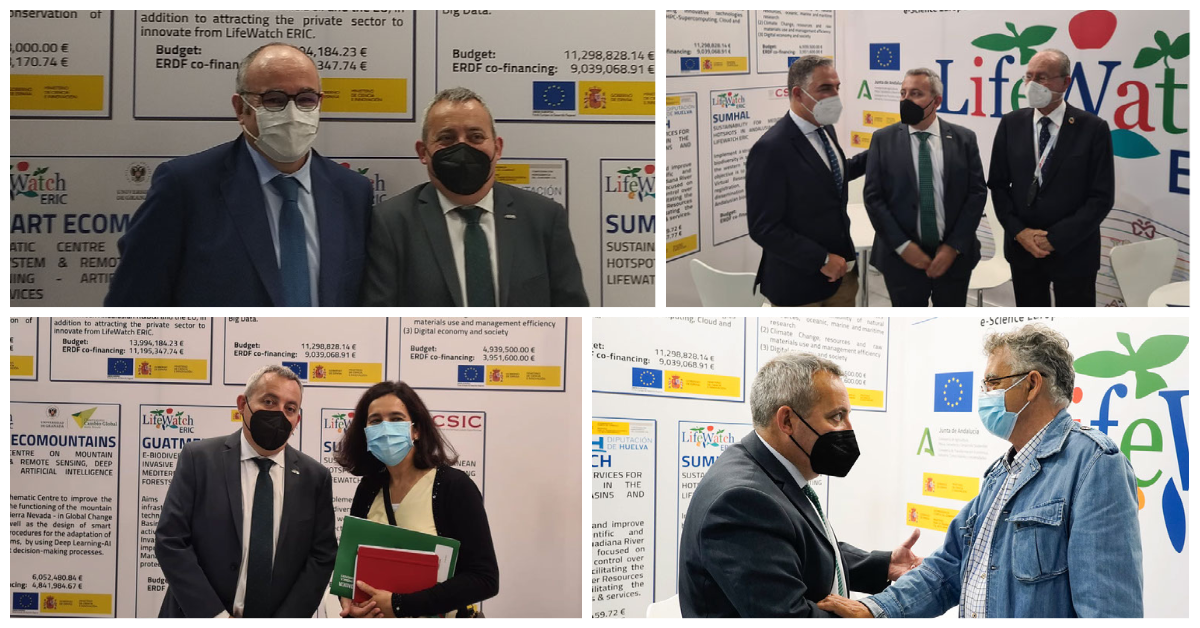 Transfiere 2021, from 14–15 April in Málaga, Spain was all about sharing scientific, technological and innovation knowledge to promote innovation and connect science and business. The perfect forum, in fact for LifeWatch ERIC to show its prowess and competitiveness. LifeWatch ERIC Chief Technology Officer Juan Miguel González-Aranda jointly with staffers from the Common Facility in Spain and the LifeWatch Spain Node welcomed at the LifeWatch ERIC booth a number of visits from representatives of local, regional, national and international governments, universities, and other research centres.
On Wednesday, 14 April, Enrique Playán-Jubilar, Director of the Spanish State Research Agency-Ministry of Science and Innovation, and Teresa Serrano-Gotarredona, Directorate General of Research & Knowledge Transfer – Regional Government of Andalusia-Junta de Andalusia visited our booth. Thursday, 15 April was the turn of Elías Bendodo Benasayag, Minister of the Presidency of the Junta de Andalucía, Francisco de la Torre Mayor of Málaga, and Jesús Alonso Sánchez Secretary General of Science, Technology & Innovation at the Regional Government-Junta de Extremadura. These high-ranking officials showed strong support and reaffirmed their commitment to the projects and initiatives on display and took a great interest in LifeWatch ERIC.
We were also honoured by the visit of other public administration representatives and decision makers in the field of sustainable ecosystems management and services, including: Raúl Jiménez Jiménez, recently appointed as Managing Director of the Andalusian Digitalisation Agency, a long-time supporter of LifeWatch ERIC through the Smart Food ERDF Andalusia project; Inmaculada Aguilar Nacher, DG of the Spanish Science and Technology Foundation-FECYT, accompanied by Borja Izquierdo, International Science Department Director at FECYT; Daniel Escacena Ortega, Director of Projects in the Andalusia Knowledge Agency-Junta de Andalusia; the Rectors of the Pablo de Olavide and Málaga Universities, Francisco Oliva Blázquez and José Ángel Narváez Bueno, respectively; and Fernando Ferrero Álvarez-Rementería, Director for Strategic Investments at IDEA-Junta de Andalusia, among others
This level of interest at such an intense forward-looking forum is a great tribute to, and recognition of, the role LifeWatch ERIC can play in contributing to new EU Green Deal-based and circular socioeconomics models. New collaborative initiatives were also forged with South Africa and Bulgaria.