Inmaculada Figueroa, new Chair of LifeWatch ERIC General Assembly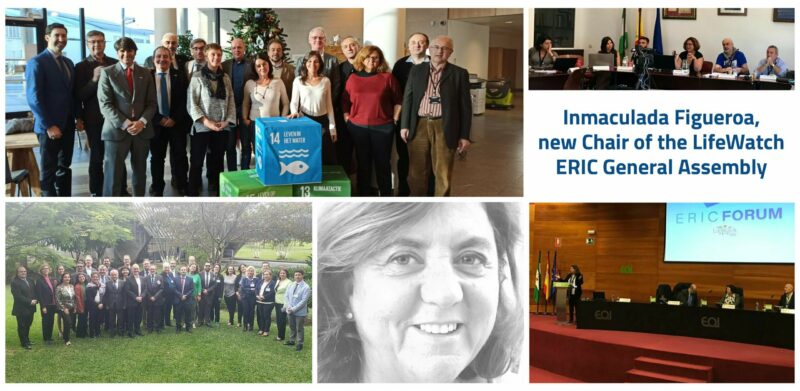 LifeWatch ERIC is pleased to announce the election of Inmaculada Figueroa as the new Chair of the LifeWatch ERIC General Assembly for the next two years.
"I have been involved with LifeWatch since the early stages of its creation and hosting in Spain and with the General Assembly since its establishment as a European Research Infrastructure Consortium in 2017, and I am delighted to have been elected as Chair of this strategic infrastructure in such a crucial moment, with LifeWatch ERIC closing its first term and setting its sights on upcoming the challenges presented by the next one. After 5 years of groundwork building the tools and web-services required, LifeWatch ERIC is in a position to boost its contribution to civil society, in supporting the European Union in reaching the 2030 Green Deal Biodiversity Targets and the UN SDGs," says Inmaculada Figueroa; "As much as I am looking forward to getting started, I would first like to extend my thanks and congratulations to my predecessor for the brilliant work he has done for the infrastructure, Gert Verreet. I would also like to take a moment to remember Marc R. De Jonge, who also chaired the LifeWatch ERIC General Assembly until his untimely passing on 27 April 2019."
Inmaculada is an electrical engineer with more than 17 years' experience in the Space domain (Instituto Nacional de Técnica Aeroespacial), being responsible for the Assembly and integration of scientific satellite payloads. Since 2009, she has been working in the Ministry of Science and Innovation of Spain and its predecessors in the field of Research Infrastructures and e-Infrastructures. Currently, she is the Deputy Vice Director General for Internationalization of Science & Innovation in the Spanish Ministry of Science & Innovation and ESFRI Vice Chair.
The LifeWatch ERIC Executive Board and all the staff warmly welcome Inmaculada and wish her the best for her new position.
The LifeWatch ERIC General Assembly
The LifeWatch ERIC General Assembly is the highest governing body of LifeWatch ERIC and is responsible for the overall direction and supervision of the infrastructure. The members of the LifeWatch ERIC General Assembly are:
Inmaculada Figueroa (Chair, ES); Gert Verreet, Aline Van der Werf, Jerome Degreef (Belgium); Georgios Kotoulas, Eva Chatzinicolaou (GR); Grazia Pavoncello (IT), Joana Pinheiro, Pedro Beja, Rui Figueira (PT); Viorel Vulturescu (RO); Luboš Halada (SK), Albin Kralj (SI), Maria Teresa Serrano, Alejandro Rodríguez, José Juan Sánchez (ES); Edwin van Huis, Marjolein Robijn, as well as the members of the LifeWatch ERIC Executive Board: Christos Arvanitidis (CEO), Juan Miguel González-Aranda (CTO), Alberto Basset (Service Centre Director), Peter Van Tienderen (Interim Director of VLab & Innovation Centre) and Lucas de Moncuit (CFO).