LifeWatch ERIC in IKRI Launch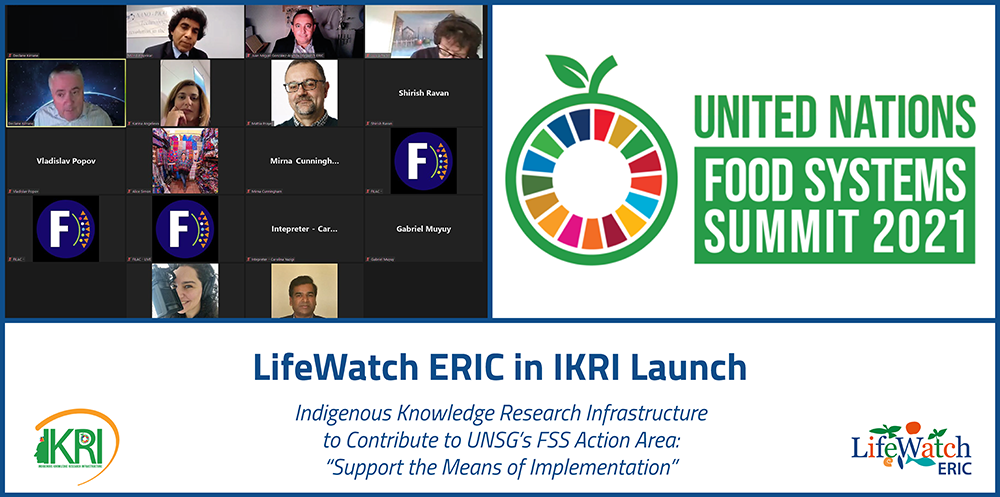 Click here to watch a short explanatory video on IKRI.
The UNGA76 Science Summit is in full swing, and LifeWatch ERIC has already played an active part in several sessions, looking forward to the LifeWatch ERIC-convened session on SDGs 14 and 15 on 1 October 2021. On 23 September, LifeWatch ERIC CTO, Dr Juan Miguel González-Aranda, alongside Prof Vladislav Popov and Ms Karina Angelieva from LifeWatch Bulgaria, took part in an important session on the launch of the Indigenous Knowledge Research Infrastructure (IKRI), which approximately 140 people attended.
The UNFSS (UN Food Systems Summit) recommended five ongoing Action Areas where the UN will place a particular focus and take increased responsibility to link the local to the global and support implementation at country level to maximise impact on the 2030 Agenda.* These Action Areas will help to organise, guide, and direct the wealth of initiatives emerging from the Summit process to achieve the SDGs. Action area 5: "Support the Means of Implementation" covers the following: Finance; Governance; Science and Knowledge (Indigenous Food Systems); Innovation, Technology, & Data, Capacity; and Human Rights, and beyond).
The "Global Research Initiative and Knowledge Repository to integrate Indigenous Knowledge into Food Systems" was developed as part of the UN Food Systems Summit process, with the collective efforts of CANEUS, together with The Fund for the Development of Indigenous Peoples of Latin America and the Caribbean (FILAC), United Nations Office for Outer Space Affairs (UNOOSA), The International Center for Agricultural Research in the Dry Areas (ICARDA), The Africa-Europe Science and Innovation Platform (AERAP) and LifeWatch ERIC. It will contribute to action area 5: "Support Means of Implementation", and was launched at the UN FSS Summit.
This Global research initiative aims to develop digital infrastructure to support more comprehensive R&D collaboration between the UN and the EU, AU, and other regions, creating partnerships and sustained access to data and information sources globally and lessening the regulatory burden associated with access to and use of public data. The initiative will function as a digital infrastructure known as IKRI, based on the EU Strategy Forum for Research infrastructures ESFRI. It will have a component of "Technology-based Repository" that utilises frontier Technologies (Earth observation and geospatial intelligence with 4th Industrial Revolution Technologies) for the development of a portal that captures, processes, analyses and presents Indigenous knowledge through multiple sources.
The IKRI is hoped to increase the level and range of partners who can bring Indigenous knowledge to collaborative research supported by the EU Horizon Europe Programme and other research programmes implemented at state level and committed to supporting the SDGs. It would further leverage the EU Neighbourhood, Development and International Cooperation Programme, known as the Global Europe Programme, to support Indigenous knowledge, ensuring that developing nations are considered within the context of enabling global policies and related regulations to ensure that the global regulatory environment does not become a barrier to knowledge exchange, but rather supports access to and use of patent data, knowledge and know-how.
*(1) Nourish All People, (2) Boost Nature-based Solutions, (3) Advance Equitable Livelihoods, Decent Work & Empowered Communities, (4) Build Resilience to Vulnerabilities, Shocks and Stresses, and (5) Support Means of Implementation.