LifeWatch ERIC at Greencities Forum & Smart Agrifood Summit, Málaga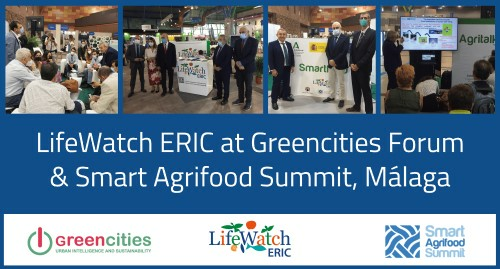 At the turn of last month, several LifeWatch ERIC members made their way to Málaga for two important events at the Trade Fairs & Congress Centre of Málaga (FYCMA): the Greencities Forum and the Smart Agrifood Summit.
Greencities Forum
The twelfth edition of the Greencities Forum took place from 29 – 30 September and attracted more than 2,600 visitors: professionals, institutions and public administrations with a focus on sustainability and smart city planning. The organisations represented at the event brought together a comprehensive proposal of solutions, services and tools aimed at improving the habitability of urban environments, to make them more sustainable, innovative and connected places to live in.
LifeWatch ERIC was one of the brokers of the event, and executive board members, Christos Arvanitidis, CEO, and Juan Miguel González-Aranda, CTO, were honoured to welcome the mayor of Málaga, Francisco de la Torre, deputy mayor of Málaga, Susana Carillo, and Secretary-General for Innovation from Junta de Andalusia, Pablo Cortés-Achedad, to the LifeWatch ERIC exposition stand. In fact, Málaga is the perfect host city for the event, having recently submitted its candidacy for the European Capital of Innovation Award.
You can read the official closing press release of the event here (in Spanish).
Smart Agrifood Summit
The fourth edition of the Smart Agrifood Summit took place from 30 September – 1 October, featuring over 1,600 professionals from 32 countries. It is described as an international reference event in the agrifood sector and is a face-to-face and virtual meeting point to find partners, increase financing and internationalisation channels as well as publicise new products, services and innovative projects.
Representing LifeWatch ERIC were Christos Arvanitidis (CEO), Juan Miguel González-Aranda (CTO) and Lucas de Moncuit (CFO); LifeWatch ERIC had its own exposition stand in the conference hall, where staff members were happy to welcome the General Manager of Agency of Management for Agriculture and Fisheries of Andalucia (AGAPA), Jose Carlos Alvarez, and Vanessa Bernad from Junta de Andalucía. During the Summit, LifeWatch ERIC promoted the Smartfood project (an ERDF Andalusia Project) through speeches at a dedicated round table and the AgriTalks Forum, and held productive meetings with the project's partners.
You can read the official closing press release of the event here (in Spanish).