LifeWatch ERIC Delegation Visit to Dublin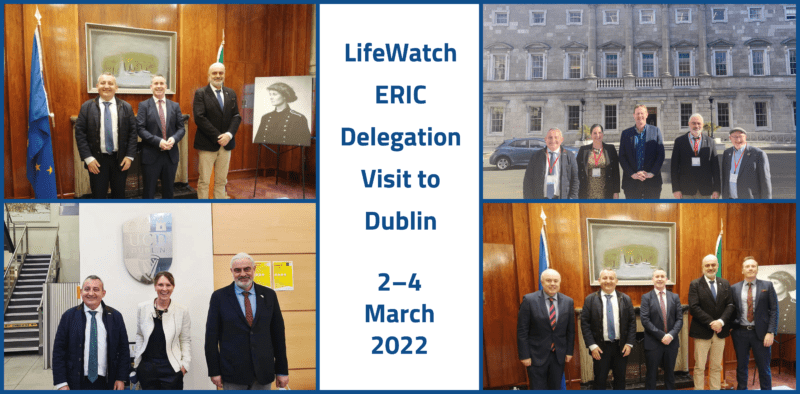 In early March, LifeWatch ERIC CEO, Christos Arvanitidis, and CTO, Juan Miguel González-Aranda, travelled to Ireland to attend several meetings organised in collaboration with University College Dublin (UCD) and Intelligence in Science (ISC).
The goal was to strengthen ties and to collaborate on enhancing the knowledge and conservation of biodiversity and ecosystems in Ireland, which was the topic of several meetings from 2 – 4 March 2022. As well as having the honour of speaking with members of the Irish parliament and ministry, and representatives from the Embassies of Spain and South Africa, the LifeWatch ERIC delegation held bilateral and group meetings with research centres hosted by two of Ireland's principal universities, as well as other Irish state agencies, universities and private organisations working in this vital research sector.
The delegation was encouraged by the positive experience, and left satisfied that large steps forward had been made to bring these various communities together to fortify collaboration across biodiversity and ecosystem research.
Full itinerary:
Wednesday, 2 March
On their first day, the CEO and CTO had fruitful discussions with Jeremy Gault of MAREI SFI Research Centre for Energy, Climate and Marine Research and Innovation from University College Cork (UCC), Triona McCormack, Director of Research at UCD; and Michael Ryan, Irish National Delegate to the European Strategy Forum on Research Infrastructures (ESFRI).
Thursday, 3 March
Thursday was a busy workday. At UCD's Belfield Campus the LifeWatch ERIC delegation met with the UCD Research Leadership team: Orla Feely, Vice-President for Research Innovation and Impact, Triona McCormack – Director of Research, and Ciara Leonard, Public Affairs Manager.
This was followed by a seminar with UCD researchers, hosted by the SFI Research Centre in Applied Geosciences (iCRAG), with: Murray Hitzman, iCRAG Director,  Jennifer Craig, iCRAG COO, Aoife Brady, iCRAG's Industry and Research Programme Manager, Francesca Martini, iCRAG's Senior Grants Manager, Maeve Boland, iCRAG'sGeoscience Policy, Communications, and Public Affairs Specialist, Dr Aoife Blowick, iCRAG's Operations Manager, ISC's Declan Kirrane, and Ciara Leonard.
The delegation then travelled to the Ministry in Dublin, where they were honoured with a meeting with Damien English, Minister of State at the Department of Enterprise, Trade and Employment.
A seminar followed, held with Daan du Toit from the Department of Science and Innovation of South Africa, joined by Murray Hitzman, Jennifer Craig, Maeve Boland, David Khoza from Integrated Geoscience Development, Declan Kirrane and Ciara Leonard.
To end the day, LifeWatch ERIC hosted a dinner at the Conrad Hotel, attended by many of the day's meeting participants, such as Ciara Leonard, Maeve Boland, Murray Hitzman, Jennifer Craig and Declan Kirrane, as well as Samuel Browett from the Waterford Institute of Technology, Willem Geerlings from the Embassy of South Africa and Eduardo Sánchez Moreno from the Embassy of Spain.
Friday, 4 March
The last day of meetings were held with Kevin Burke, National Director for Horizon Europe at Enterprise, Ireland, Peter Heffernan from the Marine Institute and Mission Board, and Ian Jones, founder and CEO of Innopharma Group.
Wrapping up the week at the Dail Eireann (Irish parliament), Christos Arvanitidis and Juan Miguel González-Aranda were honoured to meet Jim O'Callaghan, TD (Member of Parliament) for Dublin Bay South.