ENVRI Community Summer School 'Road to a FAIR ENVRI-Hub' a Success Again!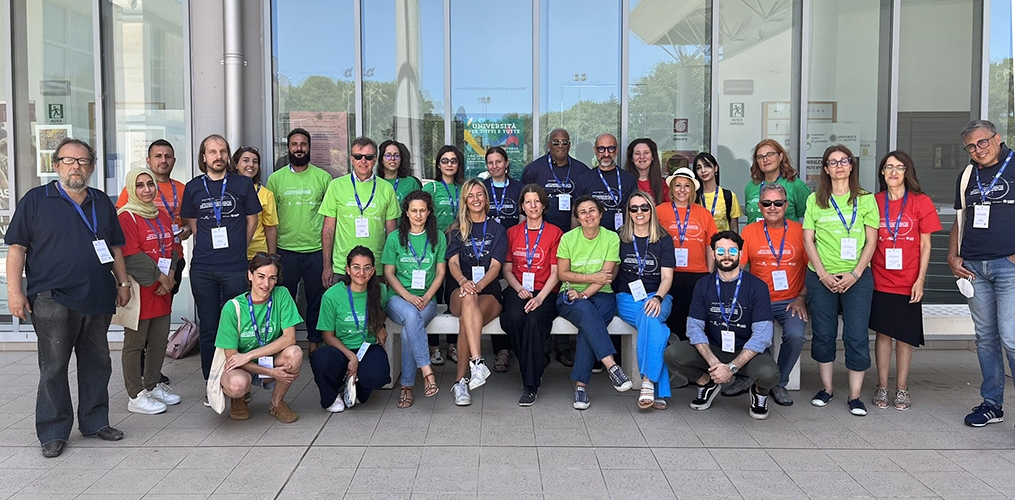 From 10–15 July 2022, 20 students of 13 different nationalities – European, American, Iranian and Pakistani – participated in the ENVRI Community International Summer School organised by LifeWatch ERIC in the framework of the Horizon2020 ENVRI-FAIR project, with the support of the University of Salento.
Now at its fourth edition, this year's Summer School happily returned to an in-person format, after the last couple of editions were forced to migrate online, and was hosted in the heart of Lecce by the University of Salento, which is the site of the LifeWatch ERIC Service Centre. The Summer School welcomed the participants on the evening of Sunday 10 July with a relaxed opening event, while the curricular programme took place from Monday to Friday, with a chance for the participants to present what they had learnt and a take part in certificate award ceremony on the last day. The surrounding area of Salento also featured in the "extracurricular" programme, with an organised group trip to Gallipoli on the Thursday to offer the participants not only some down time but also a taste of the local cuisine.
The School was aimed at IT architects, Research Infrastructure (RI) service developers and user support staff, as well as RI staff working on user interaction and community/network building and covered topics such as user interfaces, packaging of services and the reusability and validation of services. It featured an ambitious programme in which Data FAIRness and the principles of Findability, Accessibility, Interoperability and Reusability were the common denominator, essential for rendering the huge collection of data available to researchers and data mangers accessible to the wider scientific and interested community. This is a focus in which the European Union has been investing for a long time, to support the growth of the joint research area, and is compulsory for all activities financed by Horizon programmes.
This becomes all the more relevant considering the subjects in discussion – environmental science and ecology – for which the integration and sharing of biodiversity and ecosystem data is necessary to improve our understanding of ecological issues and propose innovative approaches and science-based solutions to the widespread changes affecting our Earth, such as rising temperatures, drought and the increased frequency of natural disasters such as hurricanes and flooding.
So, was it a success? The preliminary comments received gave an overwhelmingly positive impression of the School, with participants reporting that they appreciated not only the training but also the overall organisation. Recurring comments included an appreciation of the benefits of working with an interdisciplinary group of people, with takeaway keywords being content, communication and collaboration!
Link to minisite: https://www.lifewatch.eu/envri-community-international-summer-school-2022/