Andalusian Minister of Sustainability, Environment and Blue Economy visits LifeWatch ERIC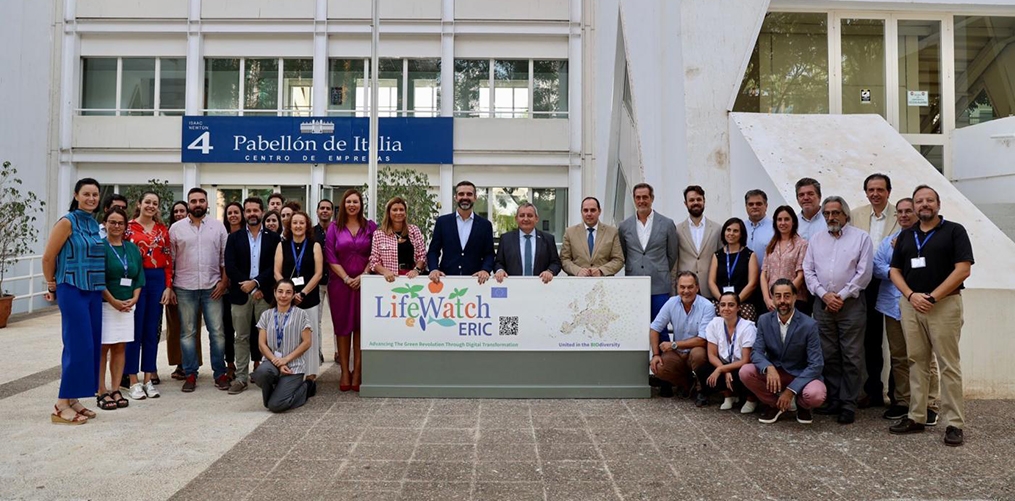 The Minister for Sustainability, Environment and Blue Economy of the Junta de Andalucía (Regional Government of Andalusia), Ramón Fernández-Pacheco, visited LifeWatch ERIC's technological headquarters in Seville this week, in recognition of the Infrastructure as "a scientific and technological reference point" in the field of biodiversity, nature and climate change. He was accompanied by the deputy minister, Sergio Arjona, and the general secretary, María del Mar Plaza.
The purpose of the visit was for the representatives of the Junta de Andalucía to see first-hand the numerous projects LifeWatch ERIC is working on in the region to protect and restore biodiversity and combat the negative effects of climate change. One such example of this is the Indalo project, in collaboration with the Junta de Andalucía, aimed at creating a network of climate change monitoring observatories in the region, which sees the participation of Andalusian public universities, as well as government institutes IFAPA (Andalusian Institute of Agricultural and Fisheries Research and Training) and INTA (National Institute of Aerospace Technology). It encompasses the study of biodiversity in Andalusian ecosystems, analysing emerging patterns from the impact of climate change, and possible consequences.
"The Junta de Andalucía is proud that an outstanding European scientific entity such as LifeWatch ERIC has its headquarters and management bodies, together with more than 20 scientists, many of them Andalusian, in Seville, which demonstrates the enormous potential of our region to face environmental challenges", commented the Minister Fernández-Pacheco.
LifeWatch ERIC CTO, Juan Miguel González-Aranda, who gave the tour, made the following statement: "We are honoured to have welcomed the Minister to our office. His visit is symbolic of the long-lasting synergy that LifeWatch ERIC has with the Junta de Andalucía, as successful collaborative projects continue to produce positive benefits for the region and further afield. We are extremely grateful for the Junta's ongoing support."