Workshop: Online Bioinformatic Platforms to Support Metabarcoding and Metagenomics Research and Applications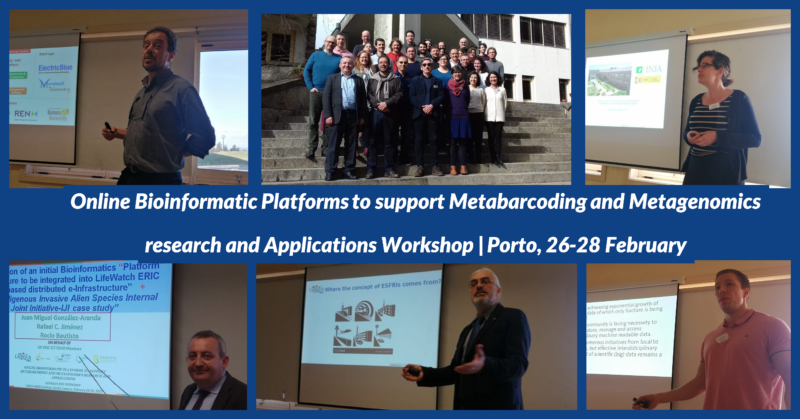 Porto, Portugal, 26-28 February 2020. The pan-European Workshop, held in the Research Centre in Biodiversity and Genetic Resources (CIBIO-InBIO) at the Vairão campus of the University of Porto, Portugal, boasted a very specific title: 'Online Bioinformatic Platforms to Support Metabarcoding and Metagenomics Research and Applications'.
The workshop witnessed more than 30 participants from nine European countries (Belgium, Estonia, Germany, Greece, Italy, Norway, Portugal, Slovenia, Spain, Switzerland) with different expertise and backgrounds, ranging from metagenomics and metabarcoding, to ecology and ICT.
The workshop was jointly organised with PORBIOTA/LifeWatch Portugal, DNAqua-Net (dedicated to the protection, preservation and restoration of aquatic ecosystems and their functions) and the EnvMetaGen project at InBIO (Research Network in Biodiversity and Evolutionary Biology). LifeWatch ERIC supported its organisation as part of its Internal Joint Initiative on Non-indigenous and Invasive Species. The workshop explored the architecture and function of an online bioinformatics platform capable to address as many needs of the scientific community as possible, such as:
1) Checking existing distributed Bioinformatics e-Resources within the LifeWatch ERIC communities of practice,
2) Reaching a common understanding of users' requirements and needs in Virtual Research Environments, and
3) Proposing an efficient and realistic and engaging mechanism from an ICT perspective, capable of federating those e-Resources within the LifeWatch ERIC VREs.
Examples of evidence-based research were provided by the European Open Science Cloud (EOSC), MIRRI (Microbial Research Resource Infrastructure), ELIXIR (which unites Europe's leading life science organisations in managing and safeguarding the ever-growing volumes of data generated), other Research Infrastructures and Bioinformatics initiatives.
The outcome of the Online Bioinformatic Platforms Workshop was a plan with well-identified next steps towards the co-construction of the bioinformatic platform.
Presentations:
Christos Arvanitidis | LifeWatch ERIC – mission and recent developments. Download PDF
Rocío Bautista | Bioinformatic analysis at SCBI. Download PDF
Pedro Beja | Next generation sequencing: Opportunities and challenges of a disruptive techmology for biodiversity assessment and monitoring. Download PDF
Bopco & JEMU | The Barcoding Facility for Organisms and Tissues of Policy Concern & The Joint Experimental Molecular Unit. Download PDF
CIBIO | Research Centre in Biodiversity and Genetic Resources. Download PDF
CNR-IBIOM | Infrastructure, data and analysis resources. Download PDF
Day 2 Session 3 | What should be the characteristics of online bioinformatics platforms in LifeWatch ERIC? Download PDF
Mafalda Galhardo | Metabarcoding and data processing pipelines. Download PDF
Juan Miguel González-Aranda | Towards the establishment of a LifeWatch ERIC bioinformatics platform. Download PDF
Tine Grebenc & Nataša Šibanc | Slovenian Forestry Institute. Download PDF
Matjaž Gregorič | Spider webs as a source of eDNA. Download PDF
Marta Goberna | Spanish Institute for Agricultural Research, Department of Environment and Agronomy. Download PDF
Pascal Hablützel | VLIZ's ambition for online bioformatic platforms to support metabarcoding and metagenomics research. Download PDF
Florian Leese | DNA-based aquatic bioassessment in Europe and beyond: Chances and challenges. Download PDF
Jennifer Leonard | Conservation and Evolutionary Genetics Group, Doñana. Download PDF
Florian Mauffrey | Development of a molecular diatoms index for water quality assessment of Swiss rivers. Download PDF
Niklas Noll | Going through a metabarcoding workflow – pointing out problems and proposing solutions for a bioinformatics platform. Download PDF
Alberto Pallavicini | Units of the Department of Life Sciences, University of Trieste. Download PDF
Christina Pavloudi & Haris Zafeiropoulos | LifeWatchGreece Hellenic Centre for Marine Research. Download PDF
Sergei Põlme | UNITE: Curated and evolving databases for molecular identification and for communicating fungal species. Download PDF