PRESENTERS: Priscilla Licandro, Stazione Zoologica Anton Dohrn, Italy, and Dessislava Dimitrova, Bulgarian Institute of Sciences.
Women scientists speak openly about their work, role models and the importance of humanising science.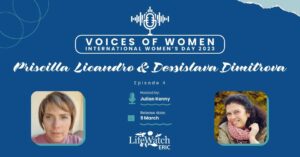 The LifeWatch ERIC podcast miniseries "Voices of Women" was created to mark International Women's Day 2023, and to learn more about the authentic experiences of women working in science. Priscilla and Dessislava, from quite different perspectives, both talk about the human face of science and following your heart.