PRESENTERS: Ana Filipa Filipe, University of Lisbon, Portugal, and Nataša Pipenbaher, University of Maribor, Slovenia.
Women scientists speak candidly about their work, experience of bias and the value of women in research.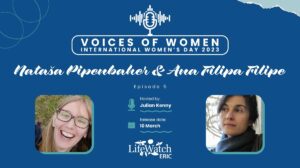 This last in the IWD 2023 podcast series looking at women scientists' perspectives on gender bias, gender balance, and the European Union's Gender Equality Strategy is further testimony of the enriching experiences and contemporary points of view that women bring to their work in research today.