PRESENTERS: Britt Lonneville, LifeWatch ERIC , Belgium, and Wanda Plaiti, Hellenic Centre for Marine Science, Greece.
The second #IWD2023 interview in which women scientists speak openly about their work, role models and the value of women in science.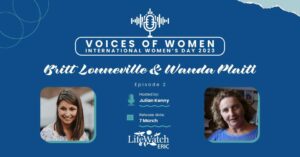 For International Women's Day 2023, LifeWatch ERIC launched the podcast miniseries "Voices of Women", dedicated to learning more about the authentic experiences of women working in science. Despite differences in age and specialisation, Britt and Wanda agree on the basics: follow your passion!