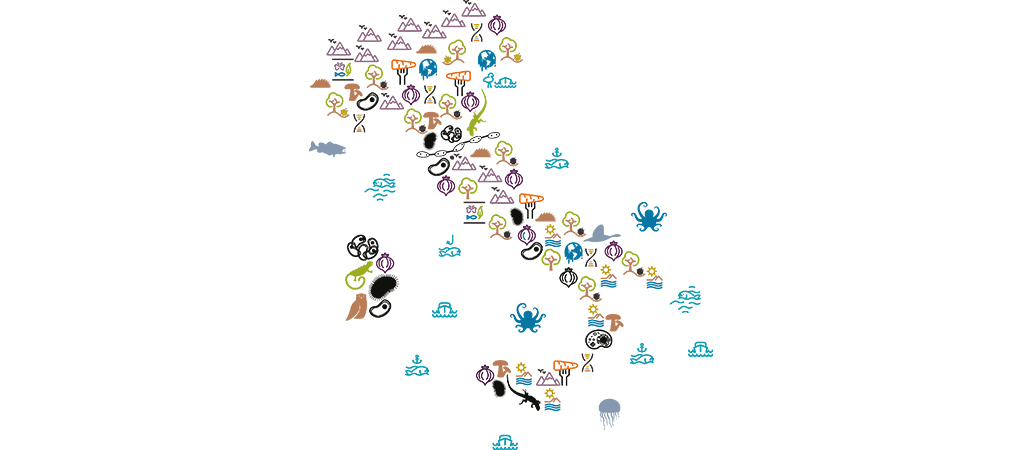 Italy is a founding member of LifeWatch ERIC and has always been strongly supported by a broad and transdisciplinary national scientific community. The involvement of the Italian scientific community resulted in the establishment of a Joint Research Unit, coordinated and led by the National Research Council (CNR). The JRU is composed of 34 active members, including high level institutions, scientific academies, national research institutes, international organisations, 20 universities, regional agencies, and an array of consortia and corporations (please see here for the full list). The prominence, quantity and diversity of our members represent the foundation of a national network that is pre-eminently capable of tackling the key topics of scientific debates of our days: biodiversity, ecosystems and e-Science.
Since its establishment in 2010, LifeWatch Italy has created the national e-Science infrastructure for biodiversity and ecosystem research. Today, thanks to the ambitious LifeWatchPLUS project freshly granted by the Ministry for Education, Universities and Research (MIUR) with an investment of about 8 million euros in only three years, LifeWatch Italy is working to reinforce its national Infrastructure. Thanks to this action, LW-ITA will be capable of providing unprecedented computational power to advance the application of semantic resources, and the elaboration of data & metadata. This investment specifically aims at providing tools and platforms to support citizen science & education initiatives, while ensuring at the same time a tremendous expansion in the Infrastructure's communication ability, which will soon include an advanced multimedia production centre and a museum. The latter makes it possible to virtually visit four types of ecosystems (mountain, semi-arid, polar and coastal/marine) accessing research data, information sheets, multimedia and 3D contents, supported by learning tools presented as serious games.
To find out more, please visit www.lifewatchitaly.eu.