Thematic Centre for Mountain Ecosystem Services, Deep Learning and Artificial Intelligence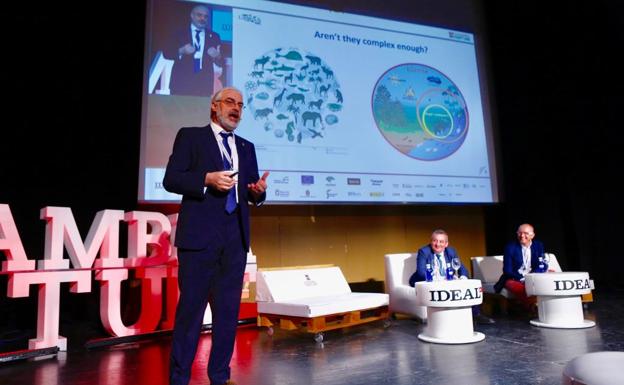 LifeWatch ERIC, together with the University of Granada, has announced a Thematic Centre for Mountain Ecosystem Services, Deep Learning and Artificial Intelligence, in Sierra Nevada, Spain. Positioning as a worldwide leader, the Centre will address the challenges of climate change and biodiversity and sustainable management in high mountain ecosystems.
On 3 July, 2019, a pre-agreement was signed between LifeWatch ERIC and two Granada-based groups of excellence, The International Research Institute of the Earth System in Andalusia (CEAMA) and the Andalusian Interuniversity Institute in Data Science and Computational Intelligence (DaSCI), with the support of the Granada delegation. The European Commission expects that this agreement will provide solutions to support improved decision-making by public administrations and the entire population in crucial areas like environmental management, water resources, agriculture, health and quality of life.
The leaders and coordination team of LifeWatch ERIC, CEO, Christos Arvanitidis, and CTO-Technological Director, Juan Miguel González Aranda, finalised the agreement in a meeting in Granada with Enrique Herrera Viedma, Vice-Rector of Research and Technology Transfer of the University of Granada and director of the DaSCI – one of the most prestigious computer and artificial intelligence groups in Spain – and with Lucas Alados Arboledas and Regino Zamora Rodríguez, director and principal investigator, respectively, of CEAMA, considered a reference in the environmental sciences.
The potential of this model of collaboration – putting together three parties to pioneer a new paradigm for research infrastructures – is an example which other companies, institutions and social entities can look to for reference. Christos Arvanitidis, Juan Miguel González Aranda and Enrique Herrera Viedma then held a round table discussion at Alhambra Venture, a business promotion and investors event, where they also announced their collaboration with other entrepreneurship networks focused on combating climate change, according to Climate KIC-EIT Spain and Iberia director, José Luis Muñoz.
The great challenge linked to the establishment of the Centre is to learn to take advantage of Deep Learning and Artificial Intelligence to solve the major challenges of sustainability that humanity is facing: climate change, resource supplies, agriculture and biodiversity conservation, with a special focus on mountain ecosystems as a case study. At the University of Granada, the development of intelligent decision support systems for the management of ecosystems is already under way, through a combination of the Internet of Things, drones and satellite images, and analysing data from sensors located in the wild but also in small rural municipalities.
For example, AI can be used to develop models for the prediction of desertification zones and deforestation through satellite images, to model the evolution of flora and fauna populations, and to help the implementation of circular economy processes. LifeWatch ERIC will also provide its LifeBlock system as a 'blockchain' platform to which the future Thematic Centre in Sierra Nevada will be added as a pilot project to guarantee the traceability of data and share all the technologies that are applied in green entrepreneurship.