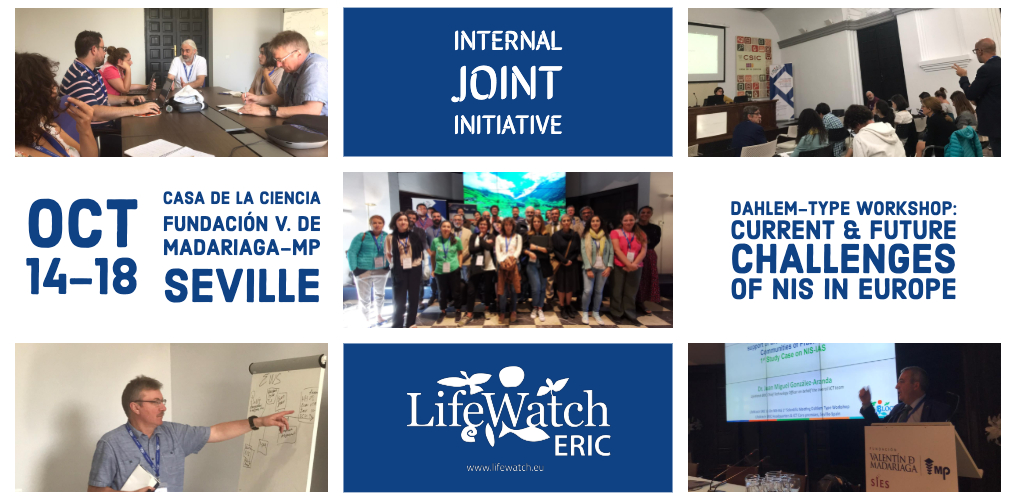 LifeWatch ERIC just launched an Internal Joint Initiative (IJI) focusing on the topic of Non-indigenous and Invasive Species (NIS) with the aim of developing new dedicated Virtual Research Environments. The IJI kicked off with the organisation of the LifeWatch ERIC 1st Dahlem-type Workshop: Current and future challenges of NIS in Europe, which took place from 14th to 18th October, in the Casa de la Ciencia, and the V. De Madariaga Foundation, in Seville, Spain. 
The choice of the Dahlem-type1 workshop stems from the desire of the infrastructure to use the most participative interdisciplinary approach in the search for new perspectives to drive the international research agenda on NIS and to involve relevant communities in the development of validation cases. For this reason, experts from different domains – from scientists working in the field of NIS, to ICT specialists and bio-informaticians – gathered in Seville to select the most promising research and management questions, identify the resources and tools available and specify those to be developed.
As a first step, participants identified and clustered the main issues related to NIS and discussed two macro topics, 1) risks and impacts of NIS, and 2) long-term responses of both the NIS and the native communities after invasion. Participants agreed on the development of a general framework to describe and estimate both risks and impacts of NIS (Topic one) and responses from the perspective of both NIS and native communities (Topic two) in the context of climate change. Several validation cases were proposed for each topic to apply this new framework.
On topic one, the suggested validation cases focus on the EU-scale assessment of ecosystem and habitat-type vulnerability to NIS in the context of climate change, including an assessment of sink source dynamics for specific, model, ecosystem types such as harbour ecosystems. On topic two, the chosen validation cases are based on the availability of long-term data series on a number of relevant invaders: (1) Caulerpa taxifolia and racemose; (2) Callinectes sapidus & other Crustaceans; (3) freshwater fishes at a global scale; (4) Mnemiopsis; (5) Rugulopteryx; (6) Ailanthus invasion and response monitoring with satellite images; (7) Metagenomics for invasive species; and (8) early detection of NIS with the metagenomic approach. An additional validation case was also proposed for later collaboration dealing with the risk for human health of NIS as vectors of pathogens.
The LifeWatch ERIC ICT team's contribution was to highlight those data resources and services required for the development of the validation cases and to suggest the implementation of an innovative approach, LifeBlock, a LifeWatch ERIC service that for the first time ever applies blockchain technology to biodiversity science.
As an immediate result of this collaboration, scientists and ICT experts jointly outlined a conceptual paper and designed a workflow that will serve as an organised timeline along which different e-tools have to be developed to help address relevant issues related to NIS for scientists, managers, decision-makers and society.
The next Dahlem-type workshop will take place in Rome from 2nd to 6th December 2019, this time driven and coordinated by the ICT community, to produce a second technical paper and pave the way towards developing the required Virtual Research Environments.
______________________
1 A Dahlem-type Workshop is defined as a quest for knowledge through an interdisciplinary communication process aimed at expanding the boundaries of current knowledge, addressing high-priority problems, identifying gaps in knowledge, posing questions aimed at directing future inquiries, and suggesting innovative approaches for solutions.