The tripod frame: mooring acoustic receivers on the seabed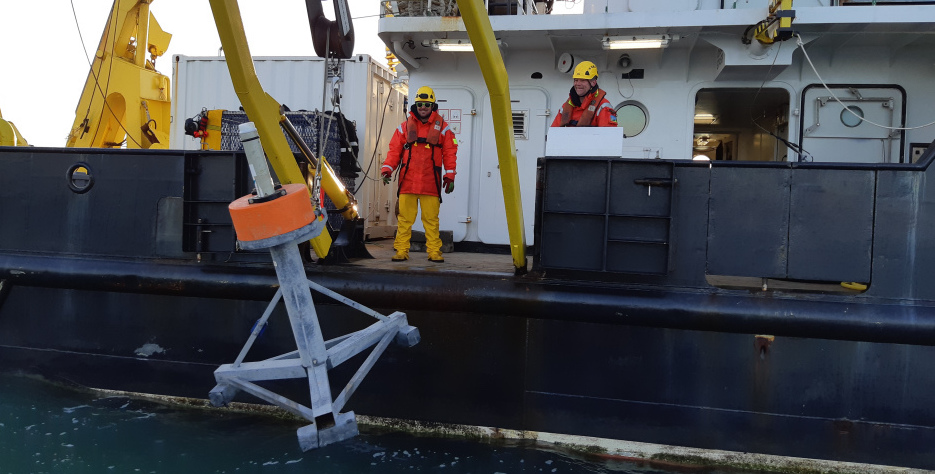 A new design to overcome the challenges of installing acoustic telemetry receivers on the seabed
Installing scientific instruments in a marine environment comes with many challenges. Equipment has to withstand the physical forces of tides, currents and storms. Researchers have to take into account the effects of biofouling, corrosion and human activities. Even access to the study site can pose its difficulties, as diving is limited by depth and weather conditions. Practical deployment mechanisms are therefore needed to sustain consistent data flows.
Acoustic telemetry enables the observation of animal movements in aquatic environments. Individual animals are fitted with a transmitter, relaying a signal that can be picked up by acoustic receivers. To facilitate a convenient installation of these instruments, the LifeWatch VLIZ team developed and tested a new design, mounting a receiver with an acoustic release on a tripod frame. This frame enables the recovery of all equipment and better yet, improves the quality of the data.
In a blog post published recently on Methods.blog, Jolien Goossens from Ghent University (and formerly LifeWatch VLIZ) tells us about the challenges of installing acoustic receivers on the seabed and this new tripod frame to overcome them. Click here for the full blog post and here for the scientific article published in the journal "Methods in Ecology and Evolution".