1st ERIC Forum Policy Seminar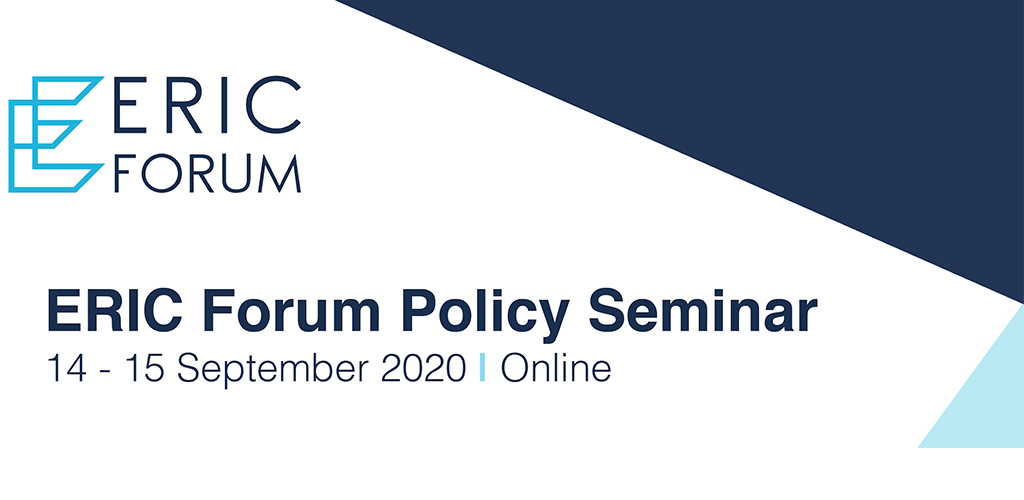 The first ERIC Forum Policy Seminar was held online on 14 -15 September, 2020. The ERIC Forum brings together 20 established European Research Infrastructure Consortia (ERICs) and 3 ERICs in preparation to strengthen their alliance and enhance collaboration. Under Grant Agreement n°823798, the ERIC Forum prepares, on a yearly basis, policy briefs that address topics of relevance to all of its members and that contribute to strengthening the European Research Area. These seminars also offer the opportunity to present the Technical and Innovation Reports, produced within the framework of the ERIC Forum project.
The ERIC Forum Policy Seminar was jointly hosted by LifeWatch, the e-Science Infrastructure for Biodiversity and Ecosystem Research and ECRIN, the European Clinical Research Infrastructure Network, ERICs. The focus of the two-day event was on the brief entitled "Funding models for access to ERIC transnational services", which brought together representatives of main funding bodies and ERICs to jointly identify opportunities and build recommendations to optimize the funding mechanisms for research projects requiring ERIC services.
The LifeWatch ERIC team contribution involved not only a joint presentation from CEO Christos Arvanitidis and CTO Juan Miguel González-Aranda – A Technical and Innovation Report on "Creating synergies between ERICs and the (Regional) Research and Innovation Strategies for Smart Specialisation – RIS3" and the "LifeWatch ERIC case study" – but also active participation and support of all the discussions held, in particular during 'Session A National Funding Schemes+ ERA-Nets and EJP', 'Session B Regional Funds – Technical and Innovation Report' and 'Session C Funding + Horizon Europe and PPP', in the concluding remarks and in drawing up the final documents.
With more than 150 representatives in attendance online, including high level EU and national decision makers, Jean-Eric Paquet, Director General of DG Research and Innovation (DG RTD) and presided over by ERIC Forum Chair John Womersley, European Spallation Source Director, the proceedings were acclaimed as "a real success"and provided LifeWatch ERIC with huge publicity. "I believe we made real progress in these meetings. Special thanks to our ICT team for their great work in setting up and running the technical platform and other logistical aspects for the event," commented González-Aranda, who is also a member of the ERIC Forum Executive Board.