LW ERIC in support of SDGs 2030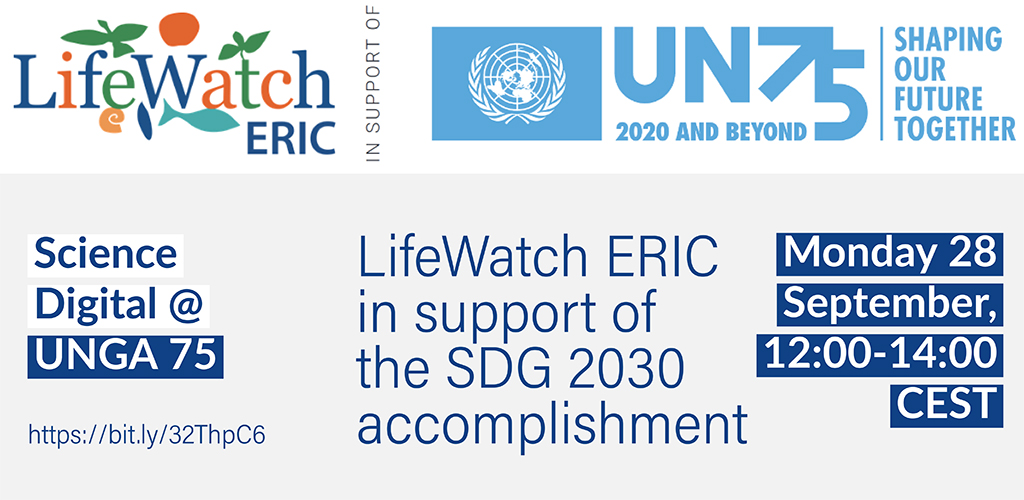 LifeWatch ERIC is delighted to announce its participation in the Science Digital @ UNGA 75 (24 September – 2 October), an online event organised by Intelligence in Science (ISC), with the presentation of a dedicated session LifeWatch ERIC in support of the SDG 2030 accomplishment, on Monday 28 September, 12:00-14:00 CEST.
As the United Nations turn 75, mitigating the effects of climate change on the planet's biodiversity and ecosystems is becoming more and more central to achieving and securing Sustainable Development Goals. Science and research have a pivotal role to play, not only in measuring the impact of these changes, but also as a strategic resource providing policy makers with the scientific and nature-based knowledge needed to tackle these societal challenges. LifeWatch ERIC is at work to achieve this mission by providing access to a multitude of data sets, e-Services & e-Tools that enable the construction and operation of Virtual Research Environments, which in turn provide the mechanisms for integrating data, software and computation developed in pan-European cooperation, by means of the use of state-of-art ICT: Big Data, Deep Learning-AI and Blockchain ("LifeBlock"), among others.
The heart of Science Digital @ UNGA 75 consists in the role and contribution of science and digital technologies to the attainment of the United Nations Sustainable Development Goals (SDGs). In this framework, LifeWatch ERIC proposes a rich agenda spanning across different disciplines, from biodiversity and ecosystem research to computer and data sciences, law and economics, and provides innovative approaches and frameworks to assist the accomplishment of the SDG 2030 targets.
Don't miss the LifeWatch ERIC Session at Science Digital @ UNGA 75!
Description of the session, agenda and registration link are available here.