European Tracking Network for fish reaches 500 million detections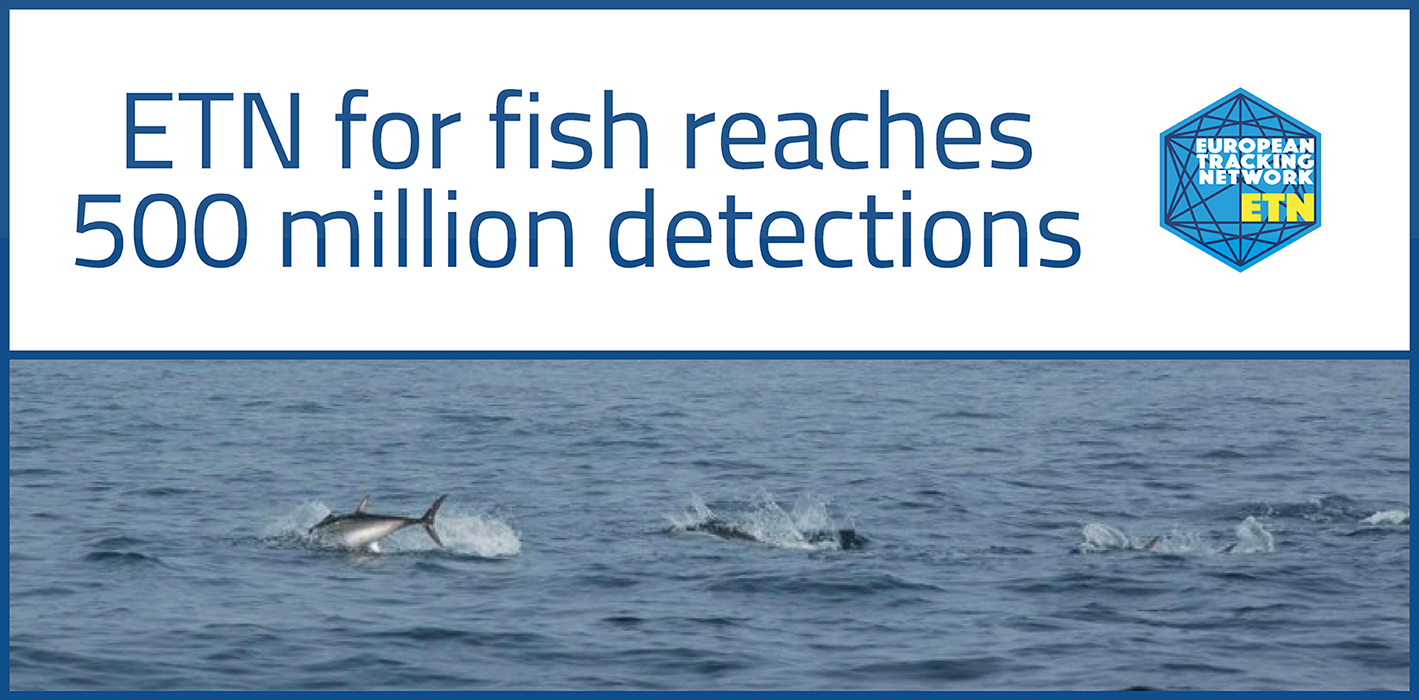 In recent years, fish tracking technology has revolutionised our knowledge on fish migration and behaviour. The LifeWatch initiative, the European Tracking Network (ETN), integrates the European efforts of hundreds of users, dealing with thousands of tagged fish from a multitude of species. It is powered by LifeWatch Belgium through VLIZ and INBO, and supported by numerous partners throughout Europe. These combined efforts have culminated in a striking milestone: 500 million detections have been reached, imparting invaluable information on fish species such as the Atlantic bluefin tuna, European seabass and sturgeon.
There is a large and growing number of researchers using biotelemetry to study aquatic animals, such as fish, and answer management-related questions (stock management, impact of climate change, etc.). Large scale nationally and regionally managed fish tagging initiatives were implemented around the globe in recent years. The ETN aims at encouraging collaboration in the field of aquatic animal tracking in Europe and ensuring a transition from a loosely-coordinated set of existing regional telemetry initiatives to an open, sustainable, efficient, and integrated pan-European biotelemetry network embedded in the international context. In animal tracking research, electronic tags are attached to the animal, allowing us to track its movements. On land, GPS technology can be used, but in the aquatic environment we have to rely on other technologies, one of the most commonly applied techniques being acoustic telemetry. This technology uses tags that emit a sound signal that is recognised by receivers placed at strategic locations.
ETN is celebrating over 500 million detections, with 8710 tags applied to 81 species. Biotelemetry has proven its value in species research, often with a scope on pressing scientific as well as policy-driven questions. For vulnerable species such as the Atlantic Bluefin tuna for instance, biotelemetry enables researchers to fine-tune their long-distance migration patterns in support of protective management plans. In the case of critically endangered species such as the European sturgeon, tagging is a crucial element in reintroduction programmes. And for several species, including the European seabass, biotelemetry facilitates the study of a species' migration and population structure beyond the individual stock level.
The full article, including information on individual species, is available on the LifeWatch Belgium website.
Source Image: © Exeter University