Catalogue of Life turns 20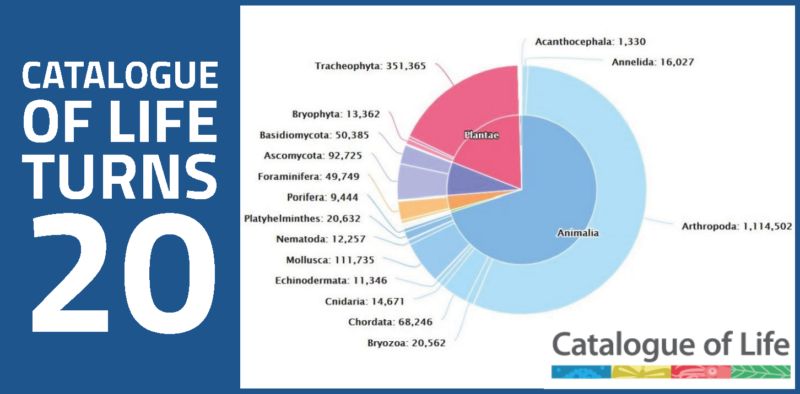 The Catalogue of Life (COL) is the result of international collaboration, providing researchers, policymakers, environmental managers, and the wider public with a consistent and up-to-date index of the names of all the world's known species. COL originated in 2001 as a partnership between the organisations Species 2000 and the Integrated Taxonomic Information System (ITIS), and is now curated by an international community of 165 taxonomic data sources. In 2021, the COL turned 20, and with the release of the 2021 Annual Checklist (Bánki et al. 2021, July, 2021), has reached just over 2 million accepted species names.
Over the past years LifeWatch Belgium, as part of the COL governance, has been overhauling its digital infrastructure. The new infrastructure, powered by GBIF, functions more efficiently, is on the path to better facilitate the work of the taxonomic community, and provides a more sustainable service for users at all scales. It consists of a public portal, a ChecklistBank, and a new API. Another of its new features is that it provides stable taxon name identifiers. The intent is to create more opportunities to address taxonomic and scientific name gaps associated with the COL Checklist, which will enable the transformation of the COL Checklist to serve as the GBIF Backbone Taxonomy in the future. In the next few years, together with the taxonomic community at large, COL would like to address the apparent taxonomic gaps that still exist in the Checklist.
COL is a wonderful example of a cost effective, functional research infrastructure that was brought to life by true international collaboration, focus, and persistence of dedicated people offering their time to make it work. COL invites everyone who has an interest to become part of the effort!
The full article can be found on the LifeWatch Belgium website.