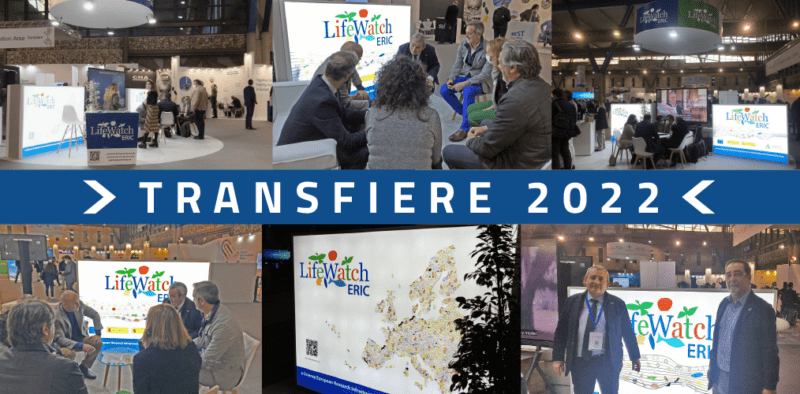 Transfiere is the biggest professional and multi-sectoral forum for knowledge and technology transfer in Spain, and the 2022 edition took place in Malaga from 16–17 February. As with every year, the famous forum gathered the most relevant players in the national and international fields of Research, Development and Innovation.
LifeWatch ERIC is a prominent player in these fields, as a developer of innovative technologies such as LifeBlock and Tesseract, which are helping to revolutionise biodiversity and ecosystem research and advance society's progress towards achieving important goals such as the SDGs. It is only natural, then, that the research infrastructure was among the 600+ entities represented and among the 96 exhibition stands present at the forum. LifeWatch ERIC has a long-held tradition of attending Transfiere in order to raise awareness of the infrastructure, and to take the opportunity to network and forge new connections with a variety of stakeholders, as well as to promote its work on ERDF projects in the territory, such as SUMHAL.
The LifeWatch ERIC team –including Chief Technology Officer Juan Miguel González-Aranda and Procurement & Institutional Relationship Officer Javier López-Torres– was on hand to welcome the Transfiere 2022 attendants to the stand, which also had a large area for informal meetings to take place. Among the visitors to the stand were Juan Carlos Álvarez Martín and Amós García Hueso, Managing Director and Secretary General of the Andalusian Agricultural and Fisheries Management Agency, Lourdes Fuster and Vicente Pérez, President and Secretary General of the Andalusian Institute for Research and Training in Agriculture, Fisheries and Food and Organic Production (IFAPA), as well as Andrés Alcántara and Antonio Troya from the International Union for Conservation of Nature (IUCN) – for more information on this last meeting, see here.