International Women's Day 2022: Emilia Chiancone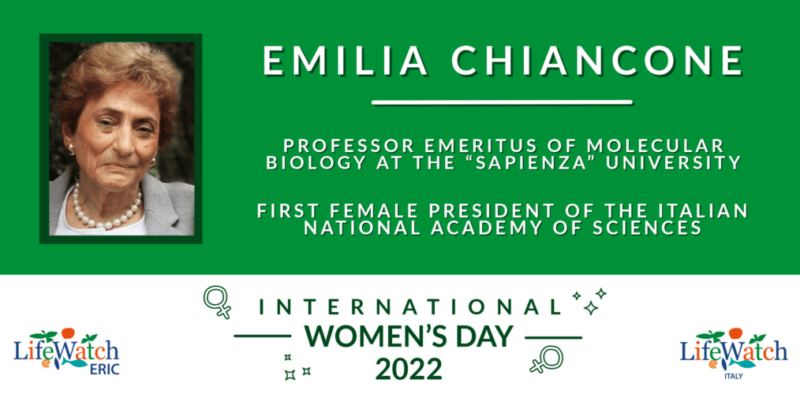 For International Women's Day 2022, we at LifeWatch ERIC are putting eight scientists in the spotlight. Each of the LifeWatch ERIC member states has proposed a figure who has broken boundaries over the course of her lifetime, and is an inspiration to younger generations looking to pursue a career in STEM.
As we explored in the podcast we recorded for The International Day of Women and Girls in Science, women are still underrepresented in various scientific fields, such as engineering, computer science and AI. Additionally, scientific research in general is not only unbalanced in terms of composition (33% female) but also in terms of hierarchy, with only 12% of national science academy members being women, who are disproportionately overlooked when it comes to promotion and grants.
The women at the centre of our campaign are very diverse, hailing from a range of countries and time periods, but they all have one thing in common: overcoming the odds in order to contribute to scientific improvement. We want to draw attention to just a fraction of the women who have defied the cultural barriers pitted against them to bring good to the world, and bring recognition where they might have been overlooked.
Born in Bari in 1938, the late Emilia Chiancone was Professor Emeritus of Molecular Biology at the "Sapienza" University of Rome and the first woman to become President of the Italian Academy of Sciences. Looking back at Chiancone's life, we are inspired by the story of a prominent Italian scientist who, throughout her life, continuously broke barriers in terms of gender, and knocked down boundaries between disciplines.
Having graduated in Milan in Biological sciences, she moved to Rome which became the centre of her career. Together with the Nobel laureate Rita Levi Montalcini, Cecilia Saccone and Virginia Volterra, Emilia Chiancone was one of the first women to lead an Institute of the National Research Council of Italy (CNR), the Centre of Investigation on Molecular Biology, which under her guidance developed into the Institute of Molecular Biology and Pathology, which she chaired from 2002 to 2008. In 2007 she received the Antonio Feltrinelli Award for Biological Sciences from the Accademia dei Lincei, and in 2015, the Italian Society of Science History gave her its Lifetime Achievement Award for her commitment to the dissemination of science, once again the only woman recognised with this honour. Altogether, she authored over 200 publications in international journals, several monographs and two patents, gaining recognition for her studies on the evolution of the allosteric regulatory mechanisms of enzymes.
From 2011 until her passing, Chiancone was the first female President of the Italian Academy of Sciences, characterising her mandates with a series of initiatives which were positively welcomed by both the scientific community and wider society. She put a special emphasis on scientific dissemination, a pertinent example being  the organisation alongside the CNR of "Wheats&Women international conference – Carlotta Award 2018". Despite a career in biochemistry, it was under her presidency that the National Academy of Sciences joined LifeWatch Italy in 2012; her commitment was valuable and unwavering, and permanently marked the story of this infrastructure. In her final years, she worked tirelessly to foster the connection between science and society, the participation of students in research projects and a focus on science in schools. Together with CNR and LifeWatch Italy, she was the promoter and organiser of a number of citizen science initiatives, among which the TrovaPiante di Villa Torlonia (an interactive multimedia guide to identify local flora), a complete guide to the rich flora of the metropolitan area of Rome (including over 1600 infrageneric taxa), and the first Italian Citizen Science Conference,  "Biodiversity, Networks, Open Science and Platforms", as part of a prolonged effort to make science more inclusive. An excellent scientist and resolute woman, Emilia Chiancone distinguished herself for her expertise, dedication and commitment – a true role model and inspiration for all those who want to pursue a career in research, particularly young women.