International Women's Day 2022: Despoina Vokou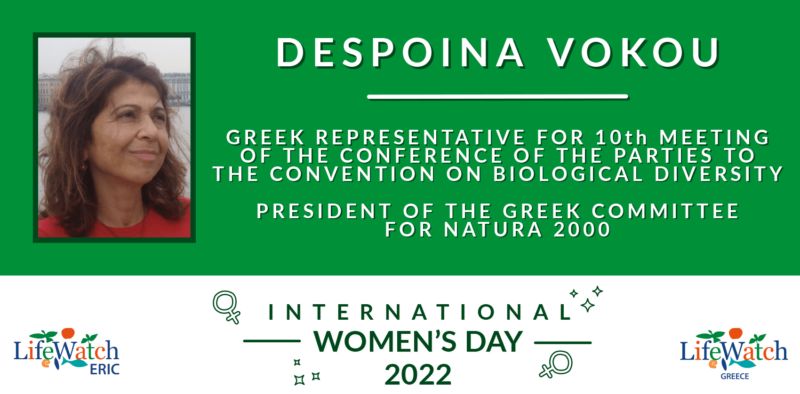 For International Women's Day 2022, we at LifeWatch ERIC are putting eight scientists in the spotlight. Each of the LifeWatch ERIC member states has proposed a figure who has broken boundaries over the course of her lifetime, and is an inspiration to younger generations looking to pursue a career in STEM.
As we explored in the podcast we recorded for The International Day of Women and Girls in Science, women are still underrepresented in various scientific fields, such as engineering, computer science and AI. Additionally, scientific research in general is not only unbalanced in terms of composition (33% female) but also in terms of hierarchy, with only 12% of national science academy members being women, who are disproportionately overlooked when it comes to promotion and grants.
The women at the centre of our campaign are very diverse, hailing from a range of countries and time periods, but they all have one thing in common: overcoming the odds in order to contribute to scientific improvement. We want to draw attention to just a fraction of the women who have defied the cultural barriers pitted against them to bring good to the world, and bring recognition where they might have been overlooked.
Despoina Vokou is a Professor of Ecology in the Aristotle University of Thessaloniki, Greece, where she previously held the roles of Head of the School of Biology and Deputy Dean of the School of Science. She obtained her bachelor's degree from School of Pharmacy, National and Kapodistrian of the University of Athens, followed by a PhD from the School of Biology at the Aristotle University of Thessaloniki. Her research interests include aerobiology, mycology and plant ecology, Mediterranean ecosystems, biodiversity conservation and management of protected areas. She has published over 110 scientific publications with an h-index of 36.
Vokou's expertise in her field has received much recognition, having also been heavily involved in the direction of WWF Greece over the last 30 years; she was invited to represent Greece at the 10th Μeeting of the Conference of the Parties to the Convention on Biological Diversity (CBD COP 10) in Japan, and was president of the Natura 2000 national Committee, as well as being called up as an expert on international environmental issues/WPIEI-Biodiversity for the 2014 Greek Presidency of the EU Council.
The National Bank of Greece invited her to review its report on 'The environmental, economic and social impacts of climate change in Greece', and the 5th Assessment of the Intergovernmental Panel on Climate Change (IPCC) invited her to review chapters of its famous report 'Climate Change Impacts, Adaptation and Vulnerability'. In addition to being a Member of the Council of European Ecological Federation (EEF) for nearly a decade, Vokou is also a founding member of the Hellenic Ecological Society (HELECOS), which she presided over for several years.