International Women's Day 2022: Rita Covas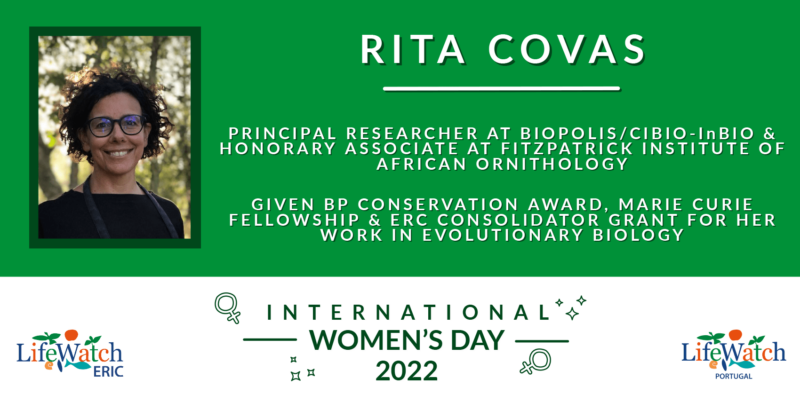 For International Women's Day 2022, we at LifeWatch ERIC are putting eight scientists in the spotlight. Each of the LifeWatch ERIC member states has proposed a figure who has broken boundaries over the course of her lifetime, and is an inspiration to younger generations looking to pursue a career in STEM.
As we explored in the podcast we recorded for The International Day of Women and Girls in Science, women are still underrepresented in various scientific fields, such as engineering, computer science and AI. Additionally, scientific research in general is not only unbalanced in terms of composition (33% female) but also in terms of hierarchy, with only 12% of national science academy members being women, who are disproportionately overlooked when it comes to promotion and grants.
The women at the centre of our campaign are very diverse, hailing from a range of countries and time periods, but they all have one thing in common: overcoming the odds in order to contribute to scientific improvement. We want to draw attention to just a fraction of the women who have defied the cultural barriers pitted against them to bring good to the world, and bring recognition where they might have been overlooked.
A principal researcher at BIOPOLIS/CIBIO-InBIO and an Honorary Research Associate at the FitzPatrick Institute of African Ornithology, University of Cape Town, Rita Covas has dedicated her career to the study of biodiversity. She focuses her research on birds and especially social behaviour, with relevant implications for our understanding of the evolutionary concepts of solidarity and cooperation. She has a passion for fieldwork and has authored or co-authored 27 scientific publications.
Covas completed her undergraduate studies at the University of Lisbon, in Portugal, which included a graduation dissertation on the biogeography of Mediterranean birds conducted at the French National Centre for Scientific Research (CNRS) in Montpellier. After graduating, she was given a BP Conservation Award, to work on the poorly-known seabird community of São Tome and Principe in the Gulf of Guinea, West Africa. In 1998, she moved to Cape Town to start a PhD at the Percy FitzPatrick Institute studying cooperative breeding behaviour in the Sociable Weaver, and afterwards she moved to the University of Edinburgh and started work on the birds from the Gulf of Guinea islands.
The quality of her work led her to obtain a Marie Curie fellowship to expand her research at the CEFE-CNRS in Montpellier, France. At the end of 2008, she returned to South Africa to re-launch the sociable weaver study, and in 2019 she was awarded an ERC Consolidator Grant to lead her research in the African savannah, with the goal of studying the relationships between species and the way they cooperate.
Covas' research demonstrates the intrigue of cooperation from an evolutionary perspective; cooperation is beneficial to the group, but has costs for each individual. Despite this, cooperation is prevalent in nature, from microorganisms to human societies. Understanding what enables evolution and maintains cooperation is a fundamental issue in evolutionary biology.