International Women's Day 2022: Angela Piskernik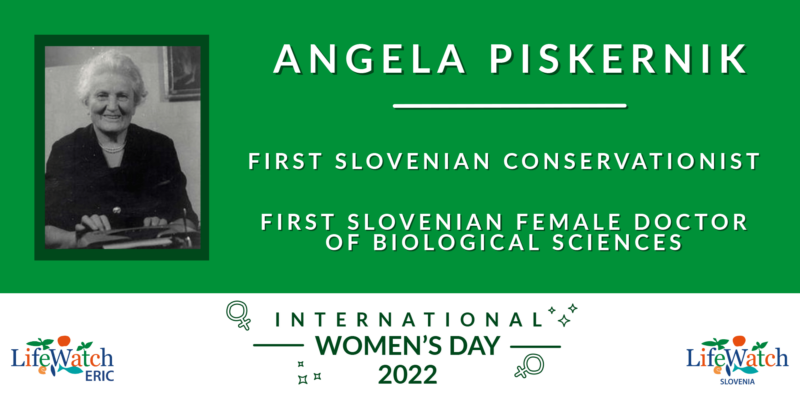 For International Women's Day 2022, we at LifeWatch ERIC are putting eight scientists in the spotlight. Each of the LifeWatch ERIC member states has proposed a figure who has broken boundaries over the course of her lifetime, and is an inspiration to younger generations looking to pursue a career in STEM.
As we explored in the podcast we recorded for The International Day of Women and Girls in Science, women are still underrepresented in various scientific fields, such as engineering, computer science and AI. Additionally, scientific research in general is not only unbalanced in terms of composition (33% female) but also in terms of hierarchy, with only 12% of national science academy members being women, who are disproportionately overlooked when it comes to promotion and grants.
The women at the centre of our campaign are very diverse, hailing from a range of countries and time periods, but they all have one thing in common: overcoming the odds in order to contribute to scientific improvement. We want to draw attention to just a fraction of the women who have defied the cultural barriers pitted against them to bring good to the world, and bring recognition where they might have been overlooked.
Angela Piskernik, born in 1886, was a botanist, the first Slovenian conservationist and the first Slovenian woman to receive a doctorate in biological sciences. She was internationally renowned for her conservationist work, responsible for the establishment of the Triglav National Park, amongst many more feats.
She studied at the University of Vienna, specialising in biological systematics and graduating with a dissertation entitled "Plasma compounds in mosses". She went on to teach in secondary schools from 1926 to 1943, when she was imprisoned for two years in the Ravensbrück Nazi concentration camp. Afterwards, she became director of the Natural History Museum in Ljubljana, where she worked until she retired in 1953. Her retirement, however, marked the beginning of some of her most famous work – becoming the first professional nature conservation officer, noted for her involvement in the restoration and protection of the Julian Alpine Botanical Garden in Trenta and the establishment of the Triglav National Park in 1961. Her lasting achievements as a nature conservation officer also included preparations for the legal protection of several other landscape parks, initiating the protection of the first nature reserves in Slovenia.
In addition, Piskernik proposed the establishment of a mountain guard in 1954, was active in the International Alpine Commission and edited the journal 'Nature Protection'. She was part of the Slovenian Natural History Society and Association of Society for the Protection of Birds, as well as several international nature conservation associations such as IUCN and VNP. For her long and active involvement in this organisation, she was made an honorary member of the International Commission for the Protection of Alpine Regions (CIPRA) after her death in 1967. Over her lifetime, she published 42 scientific papers on nature conservation. She received the Van Tienhoven International Award for her work, as well as an award from the Friderich-Wilhelm University in Bonn.
Other special honours include the naming of a prize after her by the Natural History Society of Slovenia, which is given to individuals who have shown outstanding services to the protection of natural heritage, as well as the issue of a commemorative stamp with her image in 2019.