International Women's Day 2022: Martina Vijver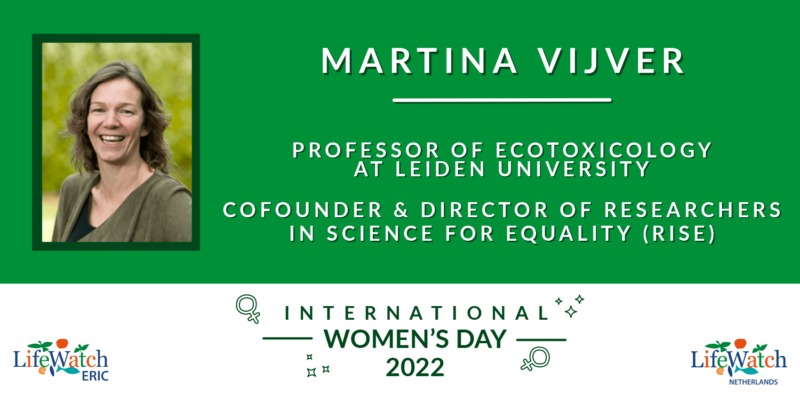 For International Women's Day 2022, we at LifeWatch ERIC are putting eight scientists in the spotlight. Each of the LifeWatch ERIC member states has proposed a figure who has broken boundaries over the course of her lifetime, and is an inspiration to younger generations looking to pursue a career in STEM.
As we explored in the podcast we recorded for The International Day of Women and Girls in Science, women are still underrepresented in various scientific fields, such as engineering, computer science and AI. Additionally, scientific research in general is not only unbalanced in terms of composition (33% female) but also in terms of hierarchy, with only 12% of national science academy members being women, who are disproportionately overlooked when it comes to promotion and grants.
The women at the centre of our campaign are very diverse, hailing from a range of countries and time periods, but they all have one thing in common: overcoming the odds in order to contribute to scientific improvement. We want to draw attention to just a fraction of the women who have defied the cultural barriers pitted against them to bring good to the world, and bring recognition where they might have been overlooked.
Martina Vijver is a Professor of Ecotoxicology at Leiden University, where she leads the research line "Chemical stressors and impacts on biodiversity". She is also Chair of the University's Permanent Committee for Academic Practice (WeCo) as well as the cofounder and director of the Researchers in Science for Equality network (RISE) and founder of the Living Lab.
Previously, Vijver was a modeller and scientific researcher at the Dutch National Institute for Public Health and the Environment (RIVM), gaining her PhD in Ecotoxicology (bioaccumulation) at the Vrije Universiteit Amsterdam before joining the Institute of Environmental Sciences at the University of Leiden in 2005. Now she investigates different stressors on biodiversity like chemicals, nanomaterials, electromagnetic fields or light, and is author of 110< peer-reviewed scientific articles. She is particularly passionate about fieldwork, believing in the value of carrying out ecotoxicology research under natural conditions, leading her to found the Living Lab at the University of Leiden in 2016, where she is the principal investigator. The Living Lab is an outdoor facility where professors and students of the University's Institute of Enviromental Sciences can research the effects of mankind on the environment in the most realistic way possible.
She has been involved in several different EU–FP7 and Horizon 2020 projects, like PATROLS, and is actively engaged in scientific outreach activities such as speaking in public lectures and giving tours to schoolchildren. In addition, she co-founded and directs RISE, whose mission is to support female scientists by stimulating their personal and professional development, advancing their careers and enhancing their visibility. The network also aims to raise awareness of the importance of gender equality amongst scientific staff "by providing solicited and unsolicited advice to the Faculty Board and Selection and Appointment Committees". In 2017, she received a World Cultural Council Special Recognition Award for research with an impact on society.