ZEEKERWETEN, the citizen science festival on the Belgian coastline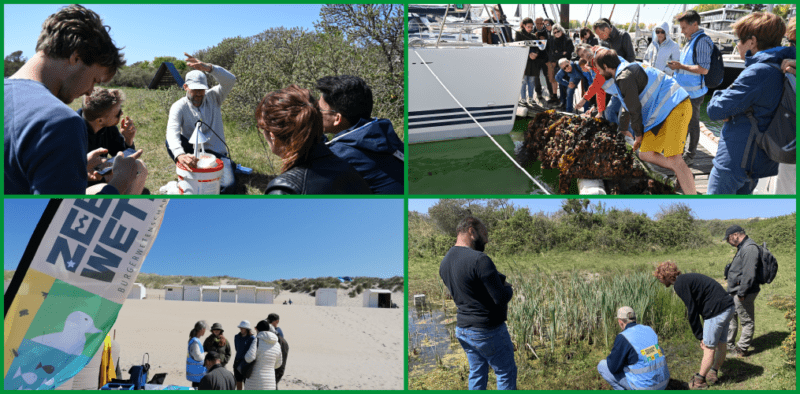 Citizen science can play a major role in data collection and processing. LifeWatch Belgium always champions greater collaboration between scientists and citizens because it enhances research and strengthens support among the wider public. The LifeWatch VLIZ initiatives 'SeaWatch-B' and the annual 'Big Seashell Survey' are good examples of this invaluable citizen-scientists cross-fertilisation. In order to give people a taste of this kind of initiative, on Sunday 8 May 2022, the Flanders Marine Institute (VLIZ) organised, with many other partners, the first citizen science festival on the Belgian coastline: ZEEKERWETEN (which translates as "knowing for sure/shore").
Under the watchful eye of experts, citizens learned tricks and tools to make the invisible life visible, at sea, on the beach, in the dunes, and elsewhere along the coast. In doing so, they got the chance to become real citizen scientists.
Staff from LifeWatch Flanders, INBO and VLIZ involved visitors to their stands in hands-on activities regarding plankton and applied artificial intelligence techniques, differentiating alien shell species from native specimens, tracking seagulls, setting up a camera trap, and recognising and reporting on that most invasive of alien species, the Asian hornet.
The open-air event turned out to be fun and fascinating, for young and old, and helped increase scientific knowledge. With more than 90 experts and volunteers involved, nearly 1,200 citizens were brought closer to science, and went home better able to appreciate what fantastic treasures of biodiversity the coastline holds.
The ZEEKERWETEN citizen science festival was an initiative of LifeWatch Belgium.