EU-SOLARIS at LifeWatch ERIC ICT-Core Office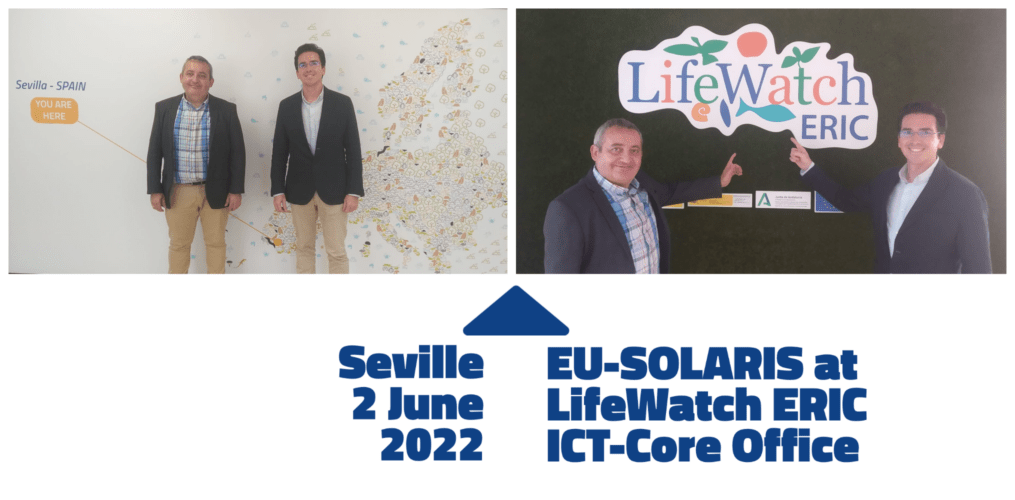 On 2 June, Eng. Antonio López-Martínez, Project Manager and Coordinator of EU-SOLARIS, visited the LifeWatch ERIC ICT-Core premises in Seville. EU-SOLARIS is the European SOLAR Research Infrastructure for Concentrated Solar Power based in Almeria (Spain), which entered the ESFRI roadmap in 2010, becoming a landmark in 2018, and which will be established as an ERIC (European Research Infrastructure Consortium) in October 2022.
EU-SOLARIS ERIC will be hosted by CIEMAT, the Centre for Energy, Environmental and Technological Research (Centro de Investigaciones Energéticas, Medioambientales y Tecnológicas) at the PSA, the Almeria Solar Platform (Plataforma Solar de Almería) premises.
The EU-SOLARIS vision is to further assist Concentrating Solar Thermal (CST) and Solar Chemistry technology deployment by enhancing the research infrastructure's development and Research and Technology Development (R&D) coordination. EU-SOLARIS is expected to be the first of its kind, where industrial needs and private funding will play a significant role.
"LifeWatch ERIC is looking forward to the imminent establishment of EU-SOLARIS as a European Research Infrastructure Consortium", says Dr Juan Miguel Gonzaléz-Aranda, LifeWatch ERIC Chief Technology Officer, "We are glad to welcome today Eng Lopéz-Martínez at the ICT-Core office here in Seville. We are already working together, as energy and environment are two domains which are critical for a more sustainable future".