e-Science Research for the Provision of Green Medicines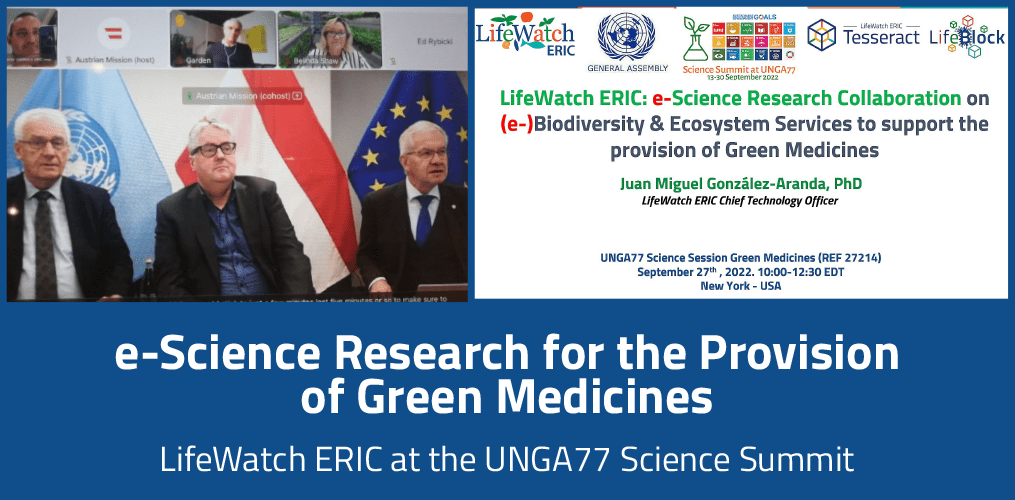 The UNGA77 Science Summit (SSUNGA77) is taking place from 13–30 September 2022 in New York and online, organised and moderated by ISC Intelligence in Science (advisory firm specialised in science, technology and policy). Following the successful Biodiversity Plenary which was hosted by LifeWatch ERIC and GBIF last Friday 16 September, LifeWatch ERIC CTO, Juan Miguel González-Aranda, was invited to participate yesterday, Tuesday 27 September, in an important SSUNGA77 session dedicated to Green Medicines: Plant Molecular Farming and a New Collaboration Model for Addressing Global Health Challenges.
Dr González-Aranda gave his presentation during the Moderated Panel Discussion: Policy Framework for Stimulating Cooperative Capacity Building for Better Access to Medicines and Vaccines, entitled LifeWatch ERIC: e-Science Research Collaborationon e-Biodiversity & Ecosystem Services to support the provision of Green Medicines.
Convened by "Medicines for Future (M4F)" initiative, the University of Natural Resources and Life Sciences, Vienna (BOKU), Austria, and Cape Bio Pharms, South Africa, in cooperation with the International Society for Plant Molecular Farming, the session aimed to contribute to increasing the accessibility of essential medicines to people in low- and middle-income countries. Similarly to the Biodiversity Plenary, the results of the session will also be used to prepare joint input for the United Nations Summit of the Future, which will take place in 2024, aiming at further developing the collaboration model and to increase awareness for Plant Molecular Farming as an affordable, innovative and versatile manufacturing platform for biopharmaceuticals and beyond at high-level decision makers globally. An extremely important initiative that will be enriched by the participation of LifeWatch ERIC.
Appearing in the photo from left to right: Kurt Zatloukal, Medical University of Graz, Austria, Declan Kirrane, ISC Intelligence, Josef Glössl, University of Natural Resources and Life Sciences, Vienna, Austria