LifeWatch ERIC Receives Recognition from Agricultural Minister for its work in the Agroecology sector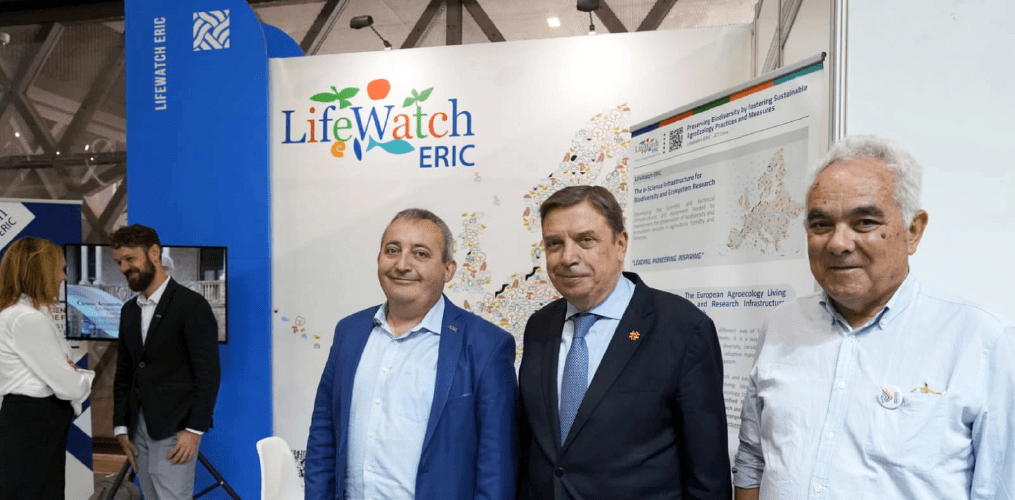 LifeWatch ERIC's participation in the Smart Agrifood Summit, Europe's largest agrifood innovation and digitisation event, marked this year a cornerstone for the Infrastructure's involvement in agroecology initiatives.
On Friday 30 September, LifeWatch ERIC CTO, Juan Miguel González-Aranda, alongside José Emilio Guerrero (professor at the University of Cordoba, member of Common Agricultural Policy Ministerial Advisory Committee, and LifeWatch ERIC collaborator) were delighted to welcome the Spanish Minister for Agriculture, Fisheries and Food, Luis Planas, to the Infrastructure's booth. A fruitful meeting focusing on the contribution that LifeWatch ERIC makes to the agroecology sector, during which the Minister appreciated how LifeWatch ERIC's projects are paving the way and leading efforts towards the valorisation of ecosystem services and agriculture ecological sustainability, becoming a reference point for other Mediterranean countries and Europe as a whole.
Dr González-Aranda made the following comment: "I am honoured to have welcomed the Minister to our booth. This is an important acknowledgment of LifeWatch ERIC's effort in this field, critical for human wellbeing, and it is an incentive to further advance our engagement in agroecology."
For more information on the Smart Agrifood Summit, click here.