Global Dimension and Sustainability of Research Infrastructure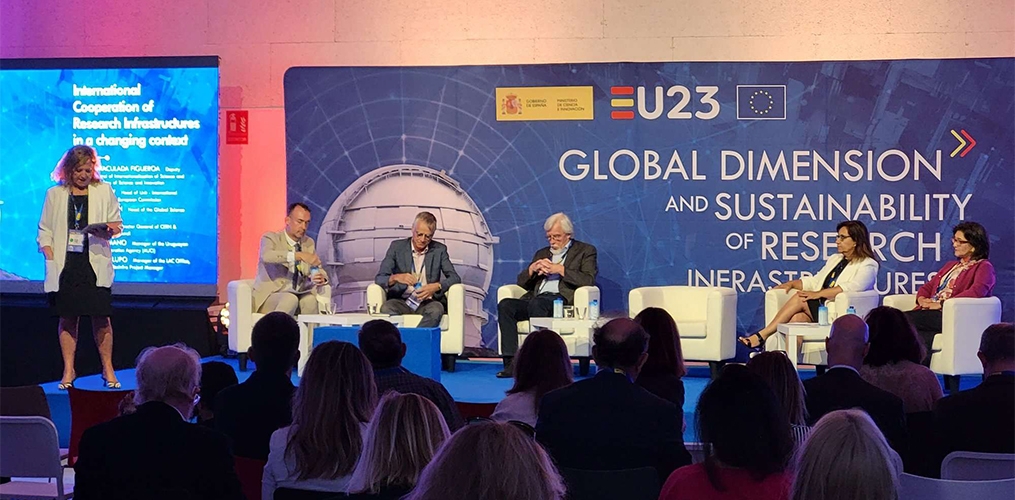 Under the Spanish presidency of the European Union, the high-level conference "Global Dimension and Sustainability of Research Infrastructure" was held on the island of Tenerife on 25-26 September 2023. LifeWatch ERIC Chief Executive Officer Christos Arvanitidis was among the dignitaries present in person, and the events of the two days were all available in streaming. 
The event was inaugurated on Monday afternoon by Rafael Rebolo López, Director of the Instituto di Astrofisica de Canarias (which hosted the event); Radka Wildovà, Director General for Higher Education, Science and Research, Czech Republic; Martin Balbackewski, adviser to the vice-president of Wallonia; Ana Arana Antelo, from the European Commission's Directorate General for Research and Innovation; and Gonzalo Arévalo, from the Spanish Ministry for Science and Innovation.
Collaboration and the creation of synergies between such various players will contribute much to understanding what the sustainability challenges – including resilience and financial factors – are likely to be in the coming years, while discussion of the global dimensions of European Research Infrastructures demonstrated how much the European Commission's policies have already contributed to Open Science worldwide.
The international nature of discussions was also reflected in the topics addressed in the opening session of the second day of the Global Dimension and Sustainability of Research Infrastructure conference: 'The sky needs to be protected', 'Energy crisis', Environmental footprint of Research Infrastructures in the polar regions', 'Greening of Research Infrastructures', and 'Best practice exchange in remote access'. A statement is expected to be issued at the conclusion of the conference on International cooperation between Research Infrastructures in a changing context. See the website for more details.