In Brussels to present the All-Ready project: meet the Agroecology Virtual Lab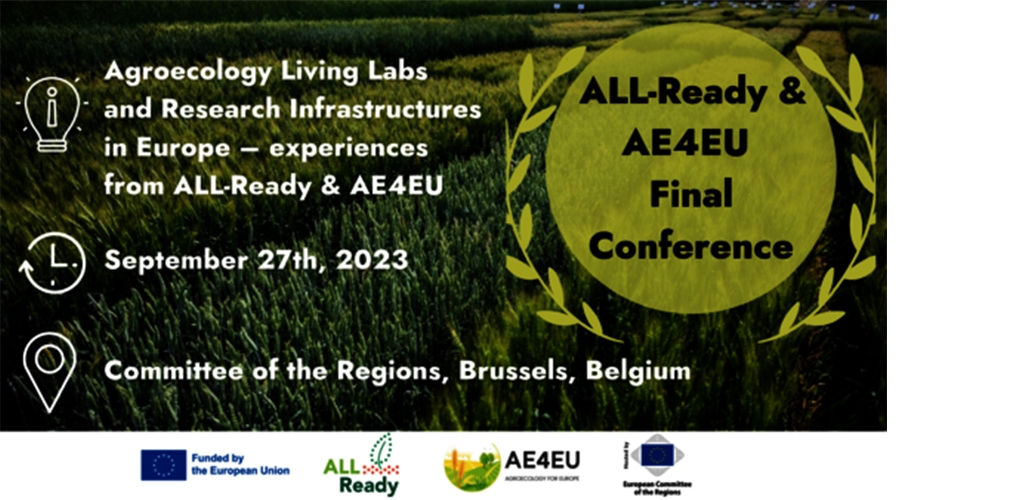 In collaboration with AE4EU, ALL-Ready organised its final event in Brussels on 27 September 2023. The conference was hosted by the Committee of the Regions.
Our Agroecology Project Manager, Iria Soto Embodas, presented the All-Ready project in the panel "Practice Perspective: How to put Agroecology Living Labs and Research Infrastructures in practice? Q&A". Within the project, one of the deliverables was to produce the Agroecology Virtual Lab, a collaboration platform to standardise collaboration for research and innovation. During the event, the steps to achieve this were presented.
The one-day conference highlighted two projects that have laid the foundation for a European Network of Living Labs and Research Infrastructures. The discussions focused on how these projects can best support the transition to agroecology and translate theoretical concepts into practical applications. The event explored the lessons learned from three years of project work and highlighted regions' role in driving agroecology transitions.
The Agroecology Virtual Lab
The Agroecology Virtual Lab is a web platform designed to simplify, centralise, digitalise and streamline the creation of interdisciplinary innovation ecosystems and communities via collaboration with complementary partners that match your needs. This Agroecology Virtual Lab includes, among other functionalities, a marketplace, networking tools, a repository of resources for dissemination and knowledge sharing, geographical visualisation of innovation ecosystems available agroecology best practices and other data management functionalities.
The platform caters to individuals and organisations from various sectors, including research, innovation, public, and civil sectors. The main objective of Agroecology Virtual Labs is to assist scientists, academics, small and medium-sized businesses, farmers, authorities, public bodies, consumers, citizens, and anyone interested in agrifood systems. Additionally, it aims to bring together stakeholders from different sectors of society to foster collaboration and exchange of knowledge on real-world applications of agroecology, research questions, technological solutions, and any other innovative ideas.
About the project
Agricultural systems face multiple challenges today, such as climate change, biodiversity loss, dwindling resources, and soil and water quality degradation. To address these challenges, Open Innovation Arrangements, including Living Labs and Research Infrastructures, can pave the way to enhance the sustainability and resilience of farming systems.
There is great potential to promote agroecology in Europe. The main objective of ALL-Ready is to establish AgroEcoLLNet, the framework for a future European network of LLs and RI that will facilitate the transition towards agroecology throughout Europe. To learn more about All-Ready, please visit the project website.