Empowering Biodiversity Research Conference II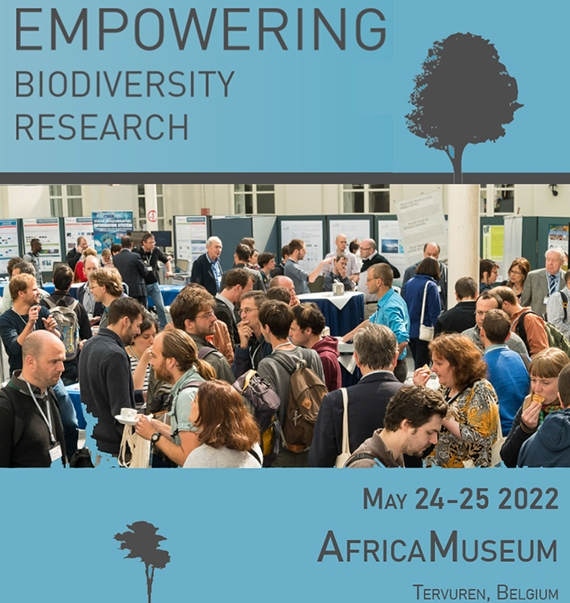 Tervuren, Belgium, 24–25 May 2022.
The Empowering Biodiversity Research conference, EBR II, will take place 24–25 May 2022 at the AfricaMuseum in Tervuren. It will take you on a journey into the world of biodiversity data standards and tools and will inform you on the latest developments in the world of Biodiversity Informatics, on the state-of-the-art in initiatives like GBIF, LifeWatch ERIC, DiSSCo, etc. and how you can benefit from them.

EBR II aims to build a bridge between Biodiversity informatics and its relative "Bioinformatics" and investigate what their crossover can bring to Biodiversity Research. Genomic information meets digital taxonomy.
Want to present a poster? Submit your abstract until 31 March 2022.
Find more information about the Empowering Biodiversity Research Conference on their website.
LifeWatch Belgium is one of the co-organisers and will be presenting following topics:
LifeWatch Belgium
From remote sensing and GIS to model-oriented databases
The LifeWatch Species Information Backbone
Biodiversity.aq / POLAAAR
BopCo
CATREIN
LifeWatch Fish Acoustic Receiver Network
In particular, LifeWatch VLIZ will be organising a workshop on Bringing Together Marine Biodiversity Environmental and Maritime Boundaries.
Venue:
AfricaMuseum
Leuvensesteenweg
133080 Tervuren
Belgium
Registration has been prolonged until 29 April 2022 – see the EBR website for more details.
Stay tuned for another workshop in September on Research Data Management!