LW ERIC CTO at Andalusia Official College of Telecommunications Engineers's Digital Meeting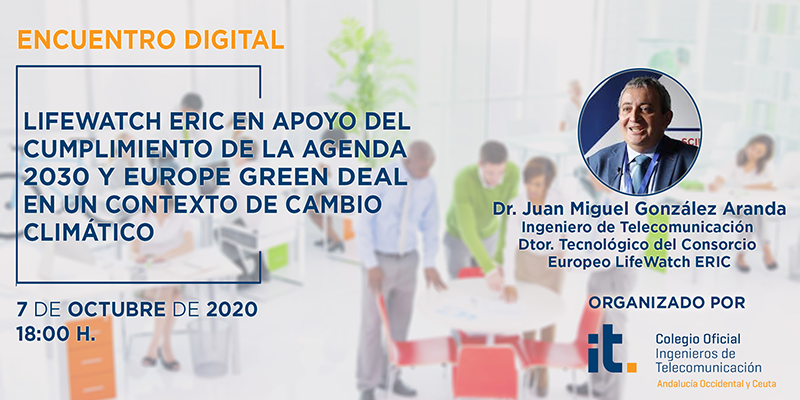 Under the title 'LifeWatch ERIC in support of compliance with the 2030 Agenda and Europe Green Deal in the context of Climate Change', LifeWatch ERIC Chief Technology Officer (CTO), Dr Juan Miguel González-Aranda, participated in a Digital Meeting organised by the Andalusia Official College of Telecommunications Engineers on Wednesday, October 7, at 6:00 p.m.
During the meeting, the CTO explained how LifeWatch ERIC can support the 2030 Agenda for Sustainable Development and the European Green Deal in achieving their targets, thanks to its VREs & Blockchain (Tesseract VRE & LifeBlock references), using their data catalogues & modelling techniques – based on the "state-of-art" of Big Data, AI and remote sensing tools – for the assessment of Ecosystem Services to support Digital Innovation Hub stakeholders. LifeWatch ERIC, through the added value of the ICT sector developments and the day-to-day efforts of its professionals, assists in preserving the planet's biodiversity and ecosystems in the context of global climate change. The video recording of the presentation is available below, in Spanish language only.