Transfiere 2022: Meetings with Collaborators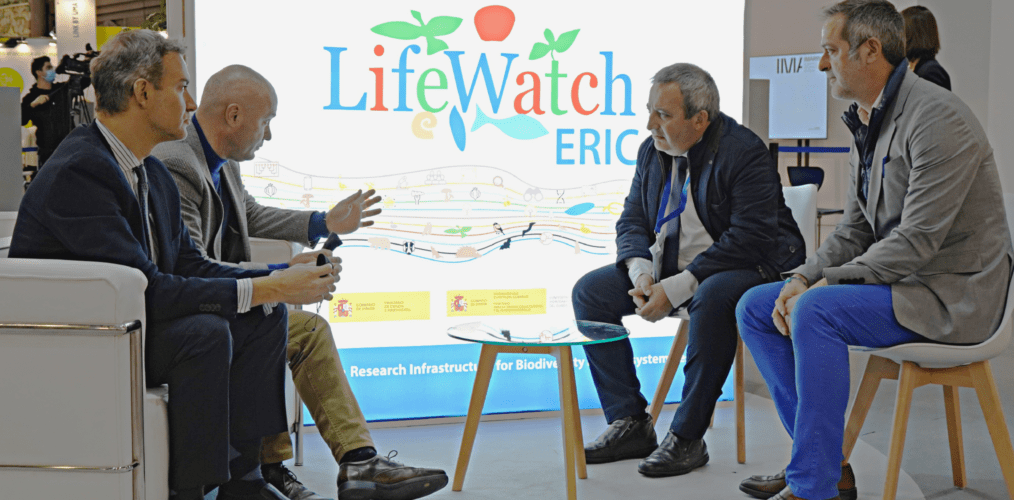 Every year, the Transfiere Forum serves as a brilliant opportunity to further cooperation with collaborators of LifeWatch ERIC, particularly in terms of ongoing projects in Spain.
Meeting with IFAPA
On the first day of Transfiere 2022, 16 February, there was a meeting with Lourdes Fuster and Vicente Pérez, President and Secretary General of the Andalusian Institute for Research and Training in Agriculture, Fisheries and Food and Organic Production (IFAPA), where it is worth highlighting IFAPA's firm commitment to LifeWatch ERIC, especially in the field of agroecology.
IFAPA's main task is to respond to the demands of the Andalusian agricultural, fishing, aquaculture and food sectors, with the intention of being an agile and effective instrument in its operation, realistic and pragmatic in its action programmes, and focused on in promoting research, technological innovation and training in the agricultural, fishing and food industries.
Meeting with AGAPA
The day after, on 17 February 2022, a meeting took place between LifeWatch ERIC CTO Juan Miguel González Aranda and Juan Carlos Álvarez Martín, Managing Director of the Andalusian Agricultural and Fisheries Management Agency (AGAPA), and Amós García Hueso, Secretary General of AGAPA.
Of note is AGAPA's involvement with the SMARTFOOD project, one of the projects financed by the European Regional Development Funds (ERDF), which LifeWatch ERIC is currently carrying out. AGAPA, as the promoter of this project, has the objective of developing infrastructure in the Andalusian agriculture and fishing sector, for the future measurement of the impact in terms of sustainability.
At Transfiere 2022, LifeWatch ERIC also held an important meeting with the International Union for Conservation of Nature (IUCN), which you can read about here.