EOSC Compliant PID Implementations – Practical Guidelines for Implementing Best Practices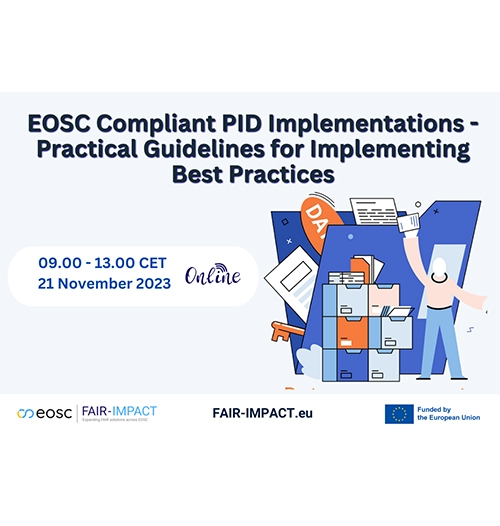 Online, 21 November 2023.
The workshop aims to showcase tangible tools, policies, and advancements related to PIDs (Persistent Identifiers). The overview of PIDs within the EOSC framework will cover the PID policy, PID-related projects, and recent developments. During the workshop, the Compliance Assessment Toolkit (CAT) will be introduced, which aims to document, track, and query compliance with the EOSC PID policy and other criteria such as TRUST, FAIR principles, Reproducibility, GDPR, and Licenses.
The workshop will also demonstrate a series of research lifecycle workflows that show how PIDs can be integrated into these workflows. These workflows identify specific points where particular PIDs can enhance the FAIRness, credibility, and openness of research outputs. The workflows can also serve as guidance tools for creating more effective data management plans and drafting more explicit institutional policies.
An open forum will be held to discuss the current challenges hindering the adoption of PID solutions compliant with the EOSC PID policy, as well as potential solutions to address these issues.
For more information and to register for this workshop, visit this page.