The ENVRI-hub for EOSC and Planet Earth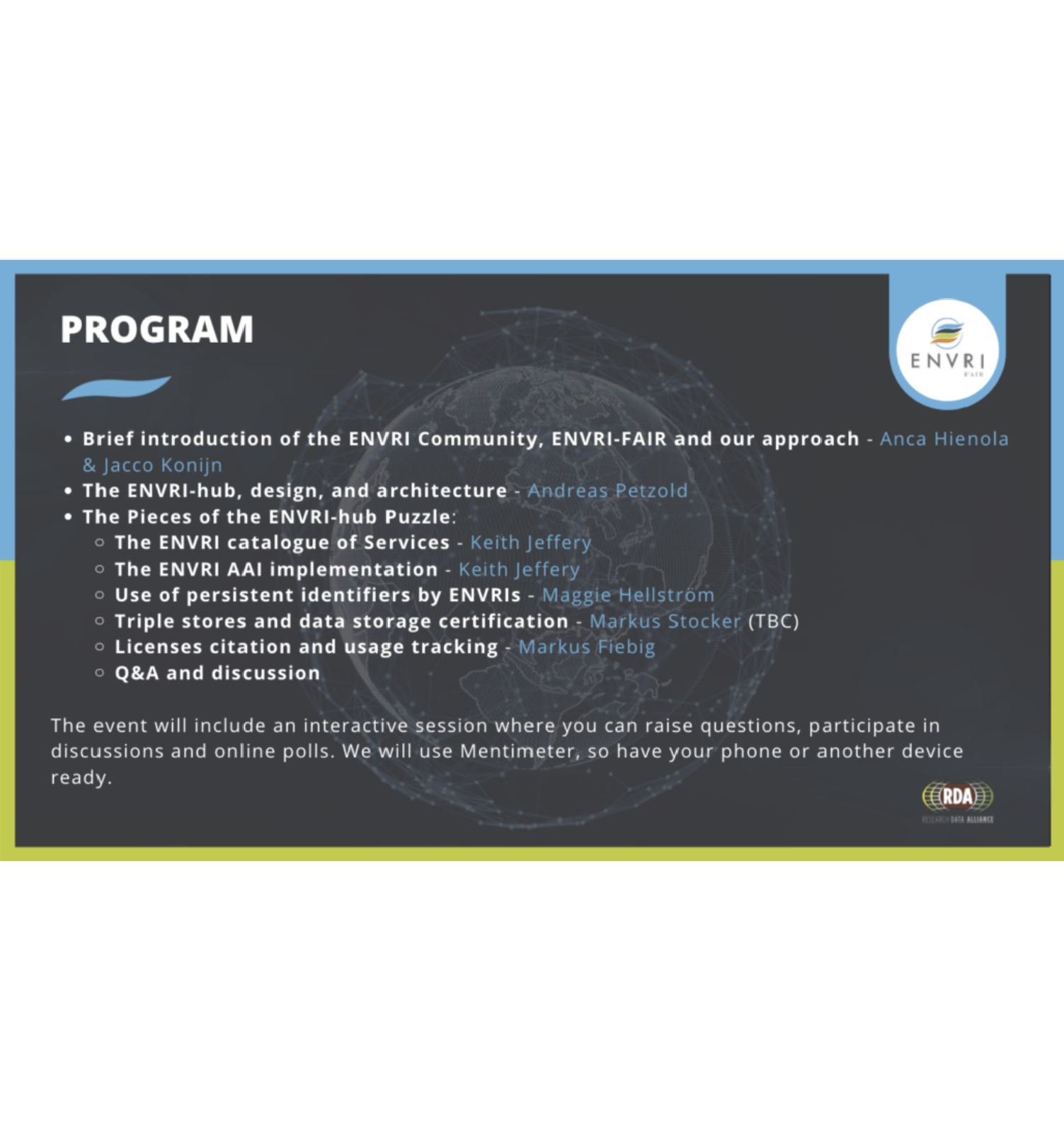 23 April 2021, 13:00 – 15:00. Online. As an ENVRI-FAIR side event at the Research Data Alliance's 17th Plenary Meeting, the ENVRI community is offering a co-located virtual event, the ENVRI-Hub for EOSC and Planet Earth to discuss the importance of FAIR data, data services and Open Earth System science in addressing this century's environmental challenges.
The European Environmental Research Infrastructures organised in the ENVRI community hold a wealth of data regarding the planet Earth and its natural environment. This (in situ) data is a critical component in tackling global challenges like climate change, biodiversity loss, natural hazards, ocean acidification, etc. Making sure this data is openly available, easy to find, and interoperable to allow its use on a global scale is vital for several reasons. Such data enables understanding how our planet works, how we can mitigate these global challenges and contribute to achieving the United Nations' Sustainable Development Goals.
Here are five good reasons to take part:
You will find out more about the ENVRI community and ENRI-FAIR project, our ongoing activities, approaches, and vision regarding IT and data/service management solutions;
If you represent the EOSC/E-infrastructure community or other Research Data Management professional network across the globe, this event is for you – we will tell you more about our technical progress and discuss with you our approach towards the data management solutions;
If you represent other e-infrastructure initiatives in different places around the world, especially those related to Earth System/Environmental science, we would appreciate it if you could discuss with us the outputs of our project, so they are useful for the scientists across the globe;
Are you representing other European Research Infrastructure clusters? This event is for you to get familiar with the ENVRI approach and discuss interlinkages and possible collaboration between the clusters.
Are you a scientist interested in the services offered by ENVRI community research infrastructures? Come and learn about the opportunities and services we offer, especially about the concept of the ENVRI-hub – a gate to all our data and services.
Click here to register for this free online event, which is pitched at E-Infrastructure staff (EUDAT, EGI, etc.), EOSC related technical data/ICT staff, other European Research Infrastructure clusters, and International related e-infrastructure initiatives.