The Science Summit at UN General Assembly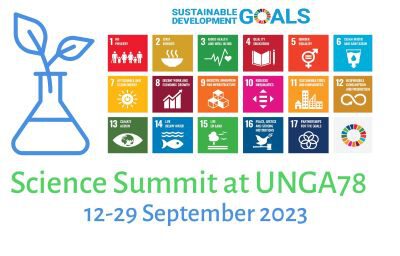 New York and Online, 12–29 September 2023.
The Science Summit at the UN General Assembly will take place in New York and online from 12-29 September 2023. It will focus on the role and contribution of science in achieving the United Nations Sustainable Development Goals (SDGs). This will be the ninth edition of the Science Summit.
The objective of the Science Summit is to develop and launch science collaborations that will demonstrate global science mechanisms and activities to support the attainment of the UN SDGs, Agenda 2030 and Local2030. Finally, it will also prepare input for the United Nations Summit of the Future, which will occur during UNGA79 in September 2024.
The Science Summit will examine what policy, regulatory, and financial environments. These serve to implement and sustain the science mechanisms and support global scientific collaborations across continents, nations, and themes. Scientific discovery through the analysis of massive data sets will be necessary if the SDGs are to be achieved. Science is not just one of many tools in the quest to achieve the SDGs; it is foundational. It provides the knowledge, techniques, and innovations necessary to address the world's most pressing challenges.
The Science Summit will begin with the opening session on Tuesday, 12 September 2023. 350 sessions will follow, bringing together 1400 speakers and building on the successful Science Summit at UNGA77 in 2022.
For more information, please visit this page.
Two broad themes
The Science Summit at the UN General Assembly will have two broad themes:
Inclusion: The term "inclusion" encompasses a broad spectrum of meanings. Within the context of the Science Summit, it signifies "data inclusion." For globally impactful data-driven science, ensuring open access to and utilisation of scientific data is paramount. While the EU and other nations are ushering in data protection and AI regulations, designing an inclusive process is key to achieving the true potential of these benefits. Regulations should be crafted with input from all affected nations, the principle being "no regulation without representation."
Development Finance: For the International Monetary Fund (IMF) and the over 450 Development Banks (which account for more than 10% of world investment) to invest more significantly in science, they must recognise the direct and indirect linkages between scientific advancement and socio-economic development. They must acknowledge the direct and indirect connections between scientific progress and socio-economic development. These institutions have traditionally focused on infrastructure, health, education, and economic stability. By recognising science as a crucial development pillar, they can allocate more resources and play a pivotal role in promoting science in their member countries. This, in turn, can support health policies, drive technological innovation, encourage economic growth, and build long-term resilience.