OntoPortal Alliance Workshop 2023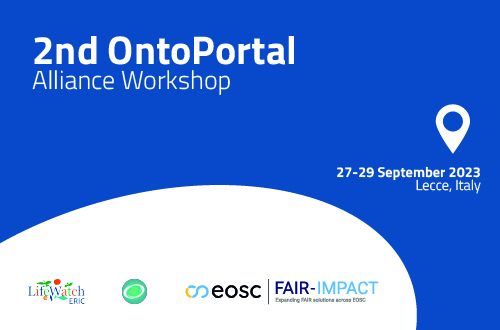 We are pleased to announce the 2nd OntoPortal Alliance Workshop in Lecce, Italy from September 26-29, 2023.
The 2023 workshop will feature 2 public (open to all interested parties) online events:
A virtual public session, September 27th, 16h-18h CEST will address the Ontology Development Lifecycle. This session will show examples that integrate ontology development with the OntoPortal platform, and follow with a user panel discussion—including community members using OntoPortal—and audience Q&A on the challenges and opportunities in the lifecycle and OntoPortal. Please register for this session here.
The FAIR-IMPACT Semantic Artefact governance workshop, September 28th, 16h30-18h30, a public workshop organized by the EOSC project FAIR-IMPACT's T4.1 on governance and semantics. Please register for this session here.
The OntoPortal Alliance collaborators share their software and strategies for supporting research communities, and together determine the open source OntoPortal system that others can use for their own purposes. The rest of the event is restricted to the Alliance members or by invitation only
Morning
Short intros
Year in review
Update short presentations
Newcomers
Afternoon
Demonstration and new features (Bio/Agro/Eco)
Ontology development lifecycle
Tutorial
User panel and Q&A session
Morning
Multilingual OntoPortal
Federated services 
Afternoon
Ontology versioning, diffs and historical views
Mappings repository and SSOM compliance
Documentation and training
Semantic artefact governance workshop
Morning
OntoPortal code management
Political session and governance
Governance of the content
Afternoon
Project proposals and funding
Plenary debrief and next steps
27/09
09:00 | Welcome & coffee
09:15 | Quick intro and tour de table. New-comers and interested parties.
09:30 | OntoPortal year in review 
09:45 | Updates from each OntoPortal installation (1/2)
09:45 – BioPortal

10:00 – AgroPortal 

10:15 – EcoPortal

10:30 – MatPortal
10: 45 | Break
11:00 | Updates from each OntoPortal installation (2/2)
11:00 – MedPortal

11:15 – IndustryPortal

11:30 – EarthPortal

11:45 – BiodivPortal
12:00 | Short introductions from newcomers 
12:00 Initiatives in Astronomy (Baptiste Cecconi, Robert Rovetto)

12:15 UKRI (Matthew McCormack, Alexandra Kokkinaki)
12:30 | Lunch
14:00 | Demonstration and new features (Bio/Agro/Eco)
15:45 | Review and refining the program of next 2 days
16:00 | PUBLIC SESSION: OntoPortal tutorial, user panel, and Q&A 
Ontology development lifecycle

Tutorial on "Fast Vocabulary Management with OntoPortal and SKOSPlay" 

20% SKOSPlay, 20% SKOS as ontology, 30% GitHub, 30% OntoPortal

 

OntoPortal with VocBench 

Panel 

3 persons confirmed the user panel
28/09
29/09