Agricultural University-Plovdiv
12 Mendeleev Blvd.
Plovdiv 4000
Bulgaria
Bulgaria joined LifeWatch ERIC in 2022.
LifeWatch Bulgaria is one of the eight Distributed Centres making up LifeWatch ERIC, the e-Science European Infrastructure Consortium which provides data resources, web services and Vital Research Environments (VREs) to biodiversity and ecosystem researchers.
The Agricultural University-Plovdiv is the official national scientific organisation that represents Bulgaria within LifeWatch ERIC.
Information on the organisation, nature, composition and members of the LifeWatch Bulgaria RI can be found here.
News from LifeWatch Bulgaria
LifeWatch Bulgaria celebrates Earth Day
­The Agricultural University-Plovdiv (AUP, Coordinator of LifeWatch Bulgaria) and the Faculty of Plant Protection and Agroecology in partnership with LifeWatch ERIC; the Academy of Music, Dance and Fine Arts "Prof. Asen Diamandiev" – Plovdiv (AMTII); the student councils at the AUP and AMTII; the Plovdiv Regional Inspectorate of Environment and Water (RIEW); the Green Balkans Association (Stara Zagora, LifeWatch Bulgaria partner); and the Society of Animalists, Florists and Scientific Illustrators (DAFNI), celebrated Earth Day on 22 April with a variety of educational and creative activities held at the AUP. Special guests of the Earth Day event were students from the local area, who...
LifeWatch Bulgaria Celebrates World Water Day
This year, several LifeWatch Bulgaria partners were heavily involved in World Water Day in Plovdiv, observed on 22 March. The LifeWatch Bulgaria Consortium joined in the colourful event, organised by the Municipality of Plovdiv, The Agricultural University-Plovdiv, the Regional Inspectorate of Environment and Water - Plovdiv, "Water Supply and Sewerage" Ltd. - Plovdiv and the East Aegean River Basin Directorate. This year's theme was "Accelerating Change", focusing on resolving the global drinking and wastewater crisis. The campaign encourages us to change the way we use and manage water resources. And because water affects us all, we need to take action...
The LifeWatch Community Platform is here!
Roll up, roll up! LifeWatch followers and collaborators are cordially invited to the grand unveiling of the LifeWatch Community platform, now openly available to everyone! Who should become a member? Well, if you're interested in biodiversity and ecosystem research, then you should! The content of the Community platform will be widely shaped by its members, allowing them to create and contribute to forums, add opportunities, jobs and events of interest to the community, and hold meetings and collaborative brainstorming together with other members. These features are particularly well-suited to the needs of partners involved in European projects focused on biodiversity,...
Voices of Women at LifeWatch ERIC for International Women's Day
In preparation for this year's International Women's Day, LifeWatch ERIC International Gender Officer, Africa Zanella, had a clear request: amplify women's voices. As explored in the "Gender, Equity and Research" campaign for last year's International Day of Women and Girls in Science, statistically, we know that while more women than ever are getting involved in STEM, there are significant obstacles still to overcome for women in research. In light of International Women's Day 2023, we have therefore created a podcast miniseries specifically dedicated to learning more about authentic experiences of women working in LifeWatch ERIC fields of interest. We asked scientists...
EU Commissioner for Innovation visits LifeWatch Bulgaria's Agricultural University – Plovdiv
Last week, the LifeWatch Bulgaria consortium representative, the Agricultural University - Plovdiv, was thrilled to welcome the European Commissioner for Innovation, Scientific Research, Culture, Education and Youth, Mariya Gabriel, to its premises. The Commissioner held a meeting with students, teachers, innovators, young scientists, representatives of the European Institute for Innovation and Technology in Food (EIT Food) and citizens of Plovdiv on the theme of "Innovation and education - building synergy for better opportunities". In the European University Strategy, the leading initiative is the European University Alliances and their acquisition of status; there are currently 44 alliances, and the goal is for them to grow to 60 by 2024....
CEO Visits LifeWatch Bulgaria
Last week, the Agricultural University of Plovdiv hosted the first two-day working meeting of the LifeWatch Bulgaria consortium, Bulgaria being the newest member state of LifeWatch ERIC, the e-Science Infrastructure for Biodiversity and Ecosystem Research. The meeting was also attended by Dr Christos Arvanitidis, LifeWatch ERIC's CEO, who travelled to Plovdiv to conduct a two-day training course for the Bulgarian partners of LifeWatch ERIC, introducing them to the Research Infrastructure's goals, objectives, activities, functioning, vision and mission. The rights and obligations of the Bulgarian consortium, as a full member of LifeWatch ERIC, and the respective benefits, advantages and commitments in projects led by LifeWatch ERIC were also discussed. At the same time, Dr Arvanitidis focused on the challenges of emerging on a global scale as a...
International Women's Day 2022: Tatyana Bileva
For International Women's Day 2022, we at LifeWatch ERIC are putting eight scientists in the spotlight. Each of the LifeWatch ERIC member states has proposed a figure who has broken boundaries over the course of her lifetime, and is an inspiration to younger generations looking to pursue a career in STEM. As we explored in the podcast we recorded for The International Day of Women and Girls in Science, women are still underrepresented in various scientific fields, such as engineering, computer science and AI. Additionally, scientific research in general is not only unbalanced in terms of composition (33% female) but...
Life below Water and Life on Land
On 1 October 2021, LifeWatch ERIC had the privilege of convening a session of the 76th UN General Assembly Science Summit*, dedicated to SDG 14, Life below Water, and SDG 15, Life on Land. LifeWatch ERIC CEO, Christos Arvanitidis, and CTO, Juan Miguel González-Aranda, convened the event, which featured experts from all over the world, speaking in keynotes and sessions. An interdisciplinary and cross-domain approach is crucial to achieve the SDGs by 2030, and this was reflected in the choice of speakers: policymakers, researchers, doctors and social scientists, whose range of perspectives and expertise was well-received by the audience. After the introduction, the...
LifeWatch ERIC in IKRI Launch
Click here to watch a short explanatory video on IKRI. The UNGA76 Science Summit is in full swing, and LifeWatch ERIC has already played an active part in several sessions, looking forward to the LifeWatch ERIC-convened session on SDGs 14 and 15 on 1 October 2021. On 23 September, LifeWatch ERIC CTO, Dr Juan Miguel González-Aranda, alongside Prof Vladislav Popov and Ms Karina Angelieva from LifeWatch Bulgaria, took part in an important session on the launch of the Indigenous Knowledge Research Infrastructure (IKRI), which approximately 140 people attended. The UNFSS (UN Food Systems Summit) recommended five ongoing Action Areas where the UN will place a particular focus and take...
Welcome, LifeWatch Bulgaria!
LifeWatch ERIC is delighted to announce that the 1 January 2022 will signal the expansion of the LifeWatch ERIC community, with the establishment of LifeWatch Bulgaria. On 8 July 2021, the General Assembly unanimously approved the application of Bulgaria to become the eighth full member of LifeWatch ERIC. LifeWatch Bulgaria has already planned several forms of in-kind contribution to the LifeWatch Infrastructure, such as carrying out complex studies into the plant health of cultivated species in the context of sustainable agroecosystems. Such research will be carried out through its nominated partner organisation PlantHealth, the Centre for Diagnostics and Technologies in Plant Health....
New collaborations with Bulgaria and South Africa
As part of LifeWatch ERIC's highly successful involvement in Transfiere 2021 in Málaga on Thursday 15 April 15 2021, two international bilateral meetings were chaired by Chief Technology Officer and Director of the Common Facility in Spain, Juan Miguel González-Aranda. The first involved the Deputy Minister of Education and Science from the Government of Bulgaria, Karina Angelieva, while the second was a meeting with the Deputy Director General of International Cooperation and Resources of the government of South Africa, Daan du Toit, accompanied by Vinny Pillay, Senior Science & Technology Representative to the EU, from the South African Department of...
LifeWatch ERIC Internal Joint Initiative
Non-indigenous and Invasive species (NIS) are considered a major threat to biodiversity around the globe: they can impact ecosystems in many ways by outcompeting or predating on native species. Who has not heard of the Burmese pythons in Florida that eat alligators? The negative impact of imported rats and cats that have decimated island fauna populations? However, the long-term impacts of NIS on ecosystem integrity are poorly explored, and policy-makers are often left without sufficient information to make wise management decisions. In the belief that the first steps in tackling biodiversity loss must be to improve our knowledge by developing...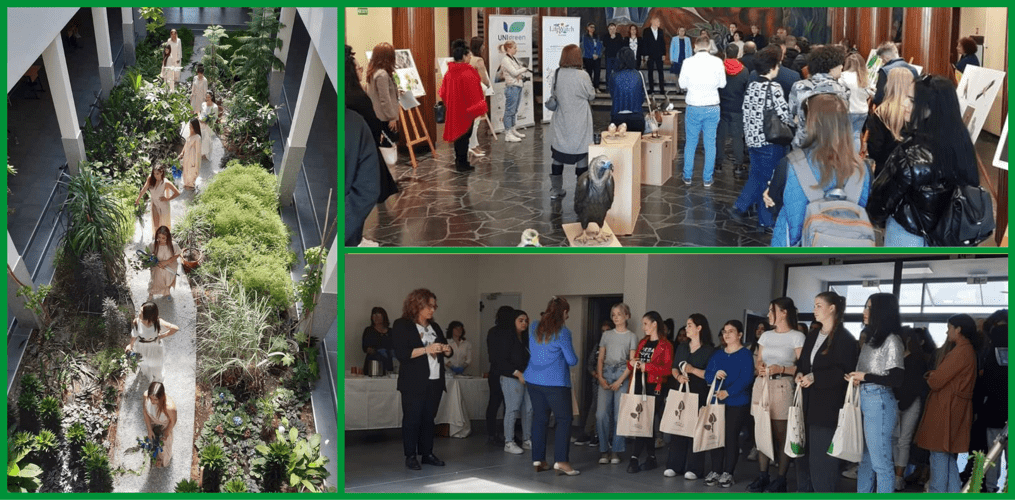 ­The Agricultural University-Plovdiv (AUP, Coordinator of LifeWatch Bulgaria) and the Faculty of Plant Protection and Agroecology in partnership with LifeWatch ERIC;…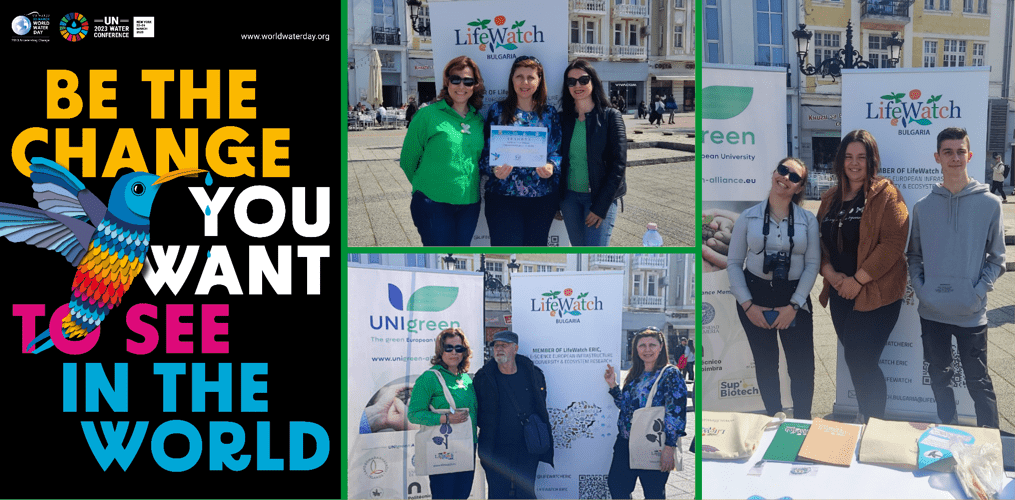 This year, several LifeWatch Bulgaria partners were heavily involved in World Water Day in Plovdiv, observed on 22 March. The…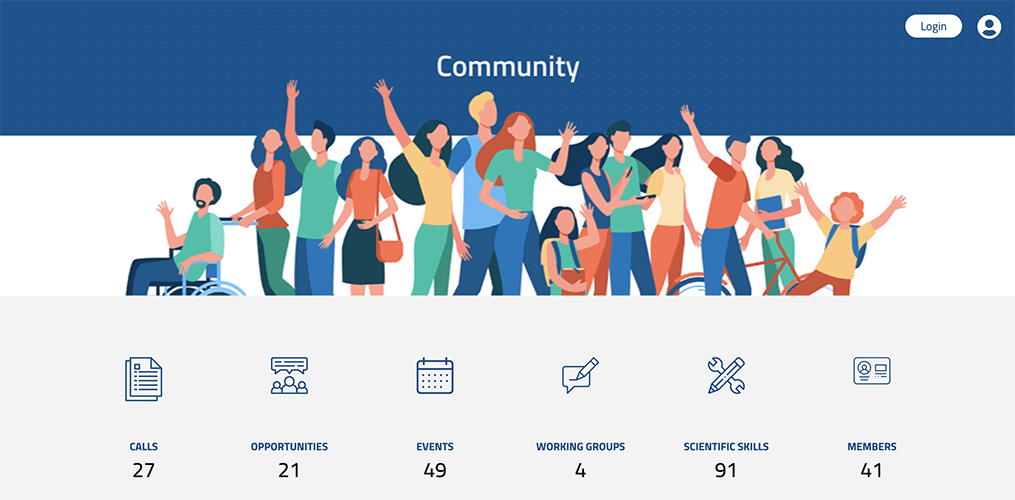 Roll up, roll up! LifeWatch followers and collaborators are cordially invited to the grand unveiling of the LifeWatch Community platform,…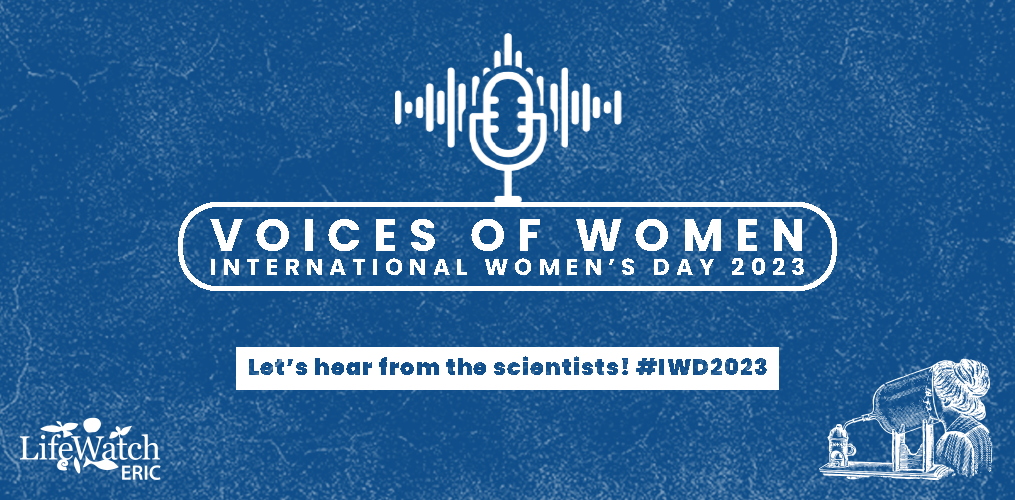 In preparation for this year's International Women's Day, LifeWatch ERIC International Gender Officer, Africa Zanella, had a clear request: amplify women's…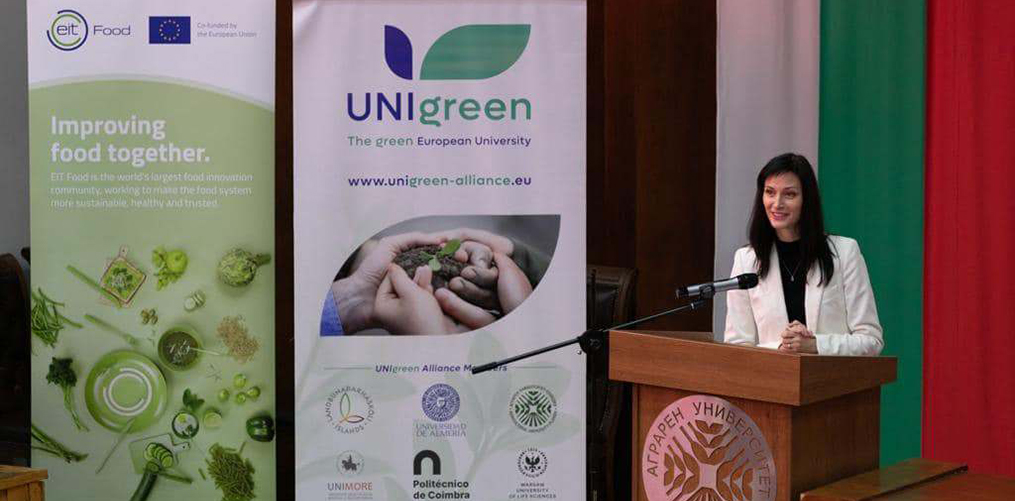 Last week, the LifeWatch Bulgaria consortium representative, the Agricultural University – Plovdiv, was thrilled to welcome the European Commissioner for…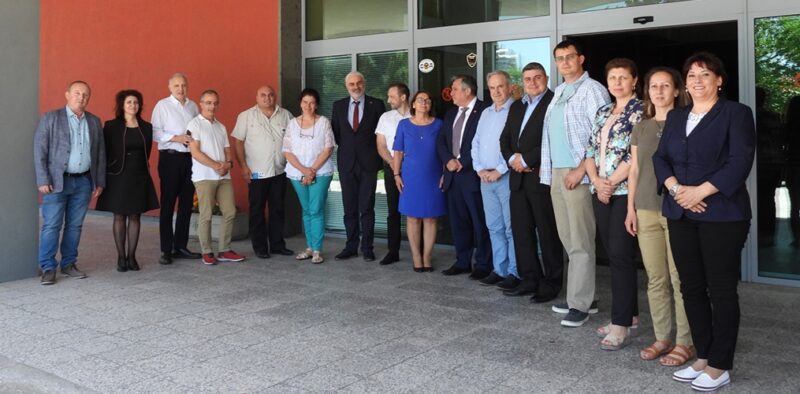 Last week, the Agricultural University of Plovdiv hosted the first two-day working meeting of the LifeWatch Bulgaria consortium, Bulgaria being…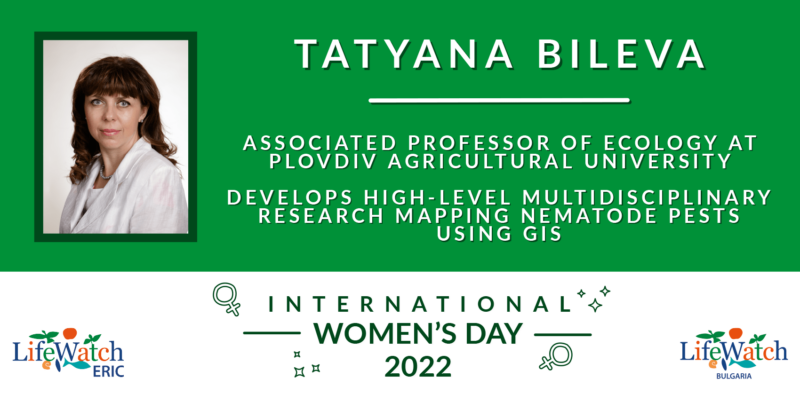 For International Women's Day 2022, we at LifeWatch ERIC are putting eight scientists in the spotlight. Each of the LifeWatch…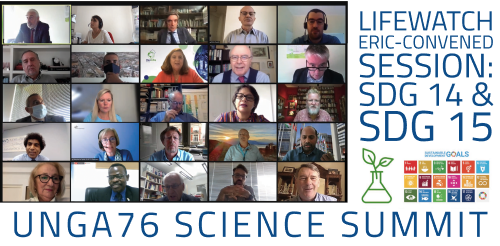 On 1 October 2021, LifeWatch ERIC had the privilege of convening a session of the 76th UN General Assembly Science Summit*,…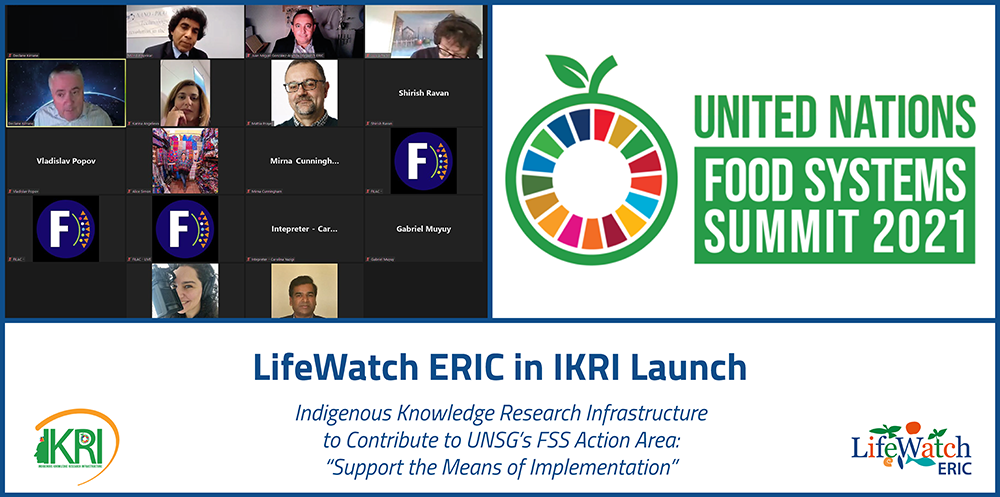 Click here to watch a short explanatory video on IKRI. The UNGA76 Science Summit is in full swing, and LifeWatch ERIC has…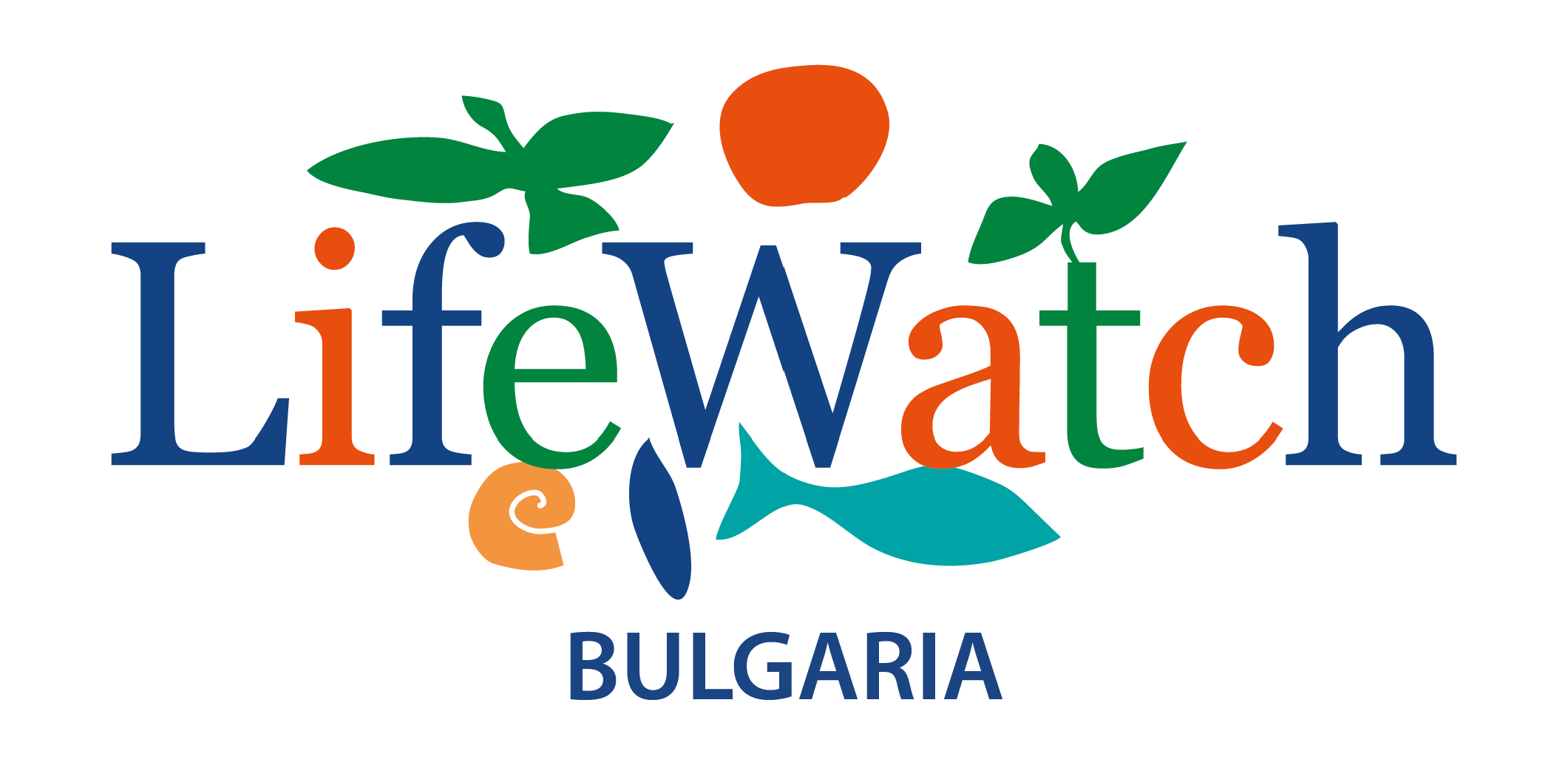 LifeWatch ERIC is delighted to announce that the 1 January 2022 will signal the expansion of the LifeWatch ERIC community, with…
National Coordination and General Assembly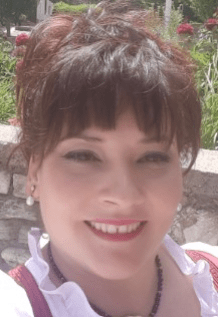 Dafinka
Grozdanova
National Coordinator and General Assembly (alternate)